Clinton Williams Murchison Jr.
b. 12 September 1923, d. 30 March 1987
Clinton Williams Murchison Jr.|b. 12 Sep 1923\nd. 30 Mar 1987|p1979.htm|Clinton Williams Murchison|b. 11 Apr 1895\nd. 20 Jun 1969|p1976.htm|Anne Morris|b. 24 Sep 1898\nd. 26 May 1926|p1975.htm|||||||Edward S. Morris|b. 16 Aug 1854\nd. 14 Oct 1900|p1969.htm|Burk Yarbrough|b. Sep 1873\nd. 20 Nov 1961|p1970.htm|
2nd cousin 1 time removed of
Louise
Underwood
.
3rd cousin 1 time removed of
Laura Jane
Munson
.
Family Background: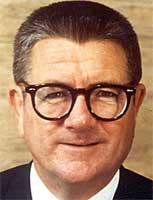 Clint Murchison, Jr.
Clinton Williams
Murchison
Jr.
was born on 12 September 1923 in
Dallas, Dallas County, Texas
.
1
He was the son of
Clinton Williams
Murchison
and
Anne
Morris
. He married
Jane Catherine
Coleman
on 12 June 1945 in
Dallas
.
2
He and
Jane
Murchison
were divorced on 3 January 1973.
3
He married
Anne
Brandt
, ex-wife of Gil Brandt, the Dallas Cowboys' player personnel director, in June 1975 in
Dallas
.
4
He died on 30 March 1987 in
Dallas
at age 63.
5
He was buried on 2 April 1987 in
Sparkman-Hillcrest Memorial Park, Dallas
.

Services were at Shady Grove Church.
6
     Clint Jr., who had a genius I.Q., earned a master's degree in mathmatics from MIT. His passion was football, and against the advice of his father he obtained a National Football League franchise for Dallas in 1960. He built the Dallas Cowboys from scratch, developing them into an organization dubbed "America's Team." He was perceived by many as "a rich, arrogant son of a bitch," and when he suffered a financial crisis and was forced to sell the Cowboys in 1984, most of those same people thought he deserved what he got. The same was felt by those who disapproved of his flagrant adultery. Nevertheless, he was a brilliant and inventive businessman, a devoted father, and to friends and business associates, he was extremely loyal. He was not able to stop his creditors' demands, however, and in 1985, Clint filed one of the largest personal bankruptcies in history.
7
Clint Murchison Jr. appeared on the 1 April 1930 Federal Census of
Dallas, Dallas County, Texas
, in the household of his father
Clint
Murchison
.
8