Gail Borden Jr.1
b. 9 November 1801, d. 11 January 1874
Gail Borden Jr.|b. 9 Nov 1801\nd. 11 Jan 1874|p214.htm|Gail Borden Sr.|b. 23 Aug 1777\nd. 1863|p81.htm|Philadelphia Wheeler|b. 1780\nd. 1828|p213.htm|||||||||||||
Family Background: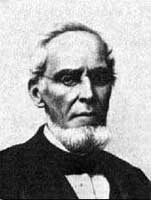 Gail Borden Jr.
Gail
Borden
Jr.
was born on 9 November 1801 in
Norwich, Chenango County, New York
.
1,2
He was the son of
Gail
Borden
Sr.
and
Philadelphia
Wheeler
.
1
He married first
Penelope
Mercer
in 1828 in
Mississippi
.
2
He married second
Augusta
Stearns
in 1845.
2
He married third
Emeline Eunice
Church
in 1860.
2
He died on 11 January 1874 in
Borden, Colorado County, Texas
, at age 72.
3,2
     Gail Borden Jr. arrived in Texas on 24 December 1829. He was surveyor for Stephen F. Austin's colony, was named one of three members of the San Felipe committee of correspondence, and represented Lavaca District in the Convention of 1833. He founded a newspaper, the T
elegraph and Texas Register
, that he published in partnership with his brother Thomas, and Joseph Baker. He prepared the first topographical map of Texas and helped lay out the site of Houston. However, he is best known as the man who invented the process for condensing milk in a vacuum, and also processes for condensing various fruit juices, for extract of beef, and for coffee. He and
Penelope
Mercer
had seven children.
2
Citations
[S104] Hattie Borden Weld, compiler, Historical and genealogical record of the descendants as far as known of Richard and Joan Borden, who settled in Portsmouth, Rhode Island, May, 1638 : with historical and biographical sketches of some of their descendants (Los Angeles?: n.pub., 1899), 186.
[S45] "Borden, Gail, Jr.," The Handbook of Texas Online, online http://www.tsha.utexas.edu/handbook/online/articles/view/BB/…
[S104] Hattie Borden Weld, Historical and Genealogical Record of the Borden Family, 189.