Isaac Johnson1
b. 1 November 1803, d. 15 March 1853
Isaac Johnson|b. 1 Nov 1803\nd. 15 Mar 1853|p2595.htm|John Hunter Johnson|||Thenia Munson|b. c 1778|p2572.htm|||||||Robert Munson|b. c 1750|p2535.htm|Winifred (—?—)|||
2nd cousin 1 time removed of
George Poindexter
Munson
Sr.
2nd cousin 3 times removed of
Laura Jane
Munson
.
Family Background: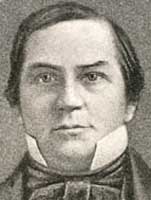 Governor Isaac Johnson
Isaac
Johnson
was born on 1 November 1803 at
Troy Plantation, St. Francisville, West Feliciana Parish, Louisiana
.
1
He was the son of
John Hunter
Johnson
and
Thenia
Munson
.
1
He married
Charlotte
McDermett
.
1
He died of a heart attack on 15 March 1853 in
New Orleans, Orleans Parish, Louisiana
, at age 49.
2
He was buried in
West Feliciana Parish
.
2
     Isaac Johnson was born one day after the Senate authorized President Jefferson to take possession of the Louisiana Territory. He grew up on Troy Plantation and was privately tutored and studied law with his uncle. He was an Episcopalian. He rose to the rank of Major General in the State Militia, and served as State Representative, State Judge, and Secretary of State before being elected as the thirteenth Governor of Louisiana in 1846. His term as Governor began in controversy when Whig Party opponents claimed he had taken an improper oath and was not legally governor. His administration continued in conflict when he appointed Whigs instead of fellow Democrats to some offices. Johnson took a strong stand on the issue of the expansion of slavery into new U. S. territories. He denounced illegal the Wilmot Proviso which would have prohibited the sale of slaves in the territories obtained from Mexico after the Mexican War. In 1849, Johnson moved his office to Baton Rouge--the new seat of state government had been selected by the legislature in 1846. He became Attorney General after he left the Governors office in 1850. He died of a heart attack in a New Orleans hotel in 1853 while running for a seat on the State Supreme Court.
1,2
Citations
[S415] Thurmond A. Williamson, "The Robert Munson Family of Louisiana - 1792-present," in The Munsons of Texas, an American Saga. (Dallas: Thurmond A. Williamson, 1987).
[S416] Unknown author, "The Governors of Louisiana," online <http://www.sos.louisiana.gov/tabid/370/Default.aspx>. part of the Governors of Louisiana multimedia display at the Old State Capitol Center for Political and Governmental History, in Baton Rouge.