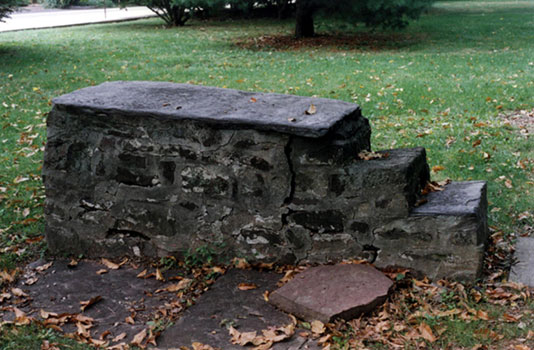 Stone steps that led to the original Meeting House
Click on this photo to view other Gwynedd photos

     The main company of Welsh Quaker immigrants that settled at Gwynedd sailed from Liverpool on 18 April 1698 on the "Robert and Elizabeth," and arrived in Philadelphia on the 17th of July. The first Gwynedd Meeting House was built in 1700 and replaced by a new stone structure, completed in 1712. It was torn down and a new one was built on the same site in 1823. The stone steps are all that remains of the 1712 meeting house. Apparently, Gwynedd had only a preparative meeting until 1714 when Gwynedd Monthly Meeting was established by authority of Haverford Monthly and Philadelphia Quarterly meetings. Before that time, it was part of Haverford Monthly Meeting.