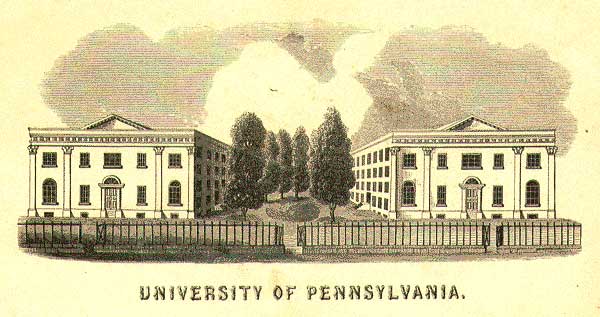 Benjamin Franklin's "Publick Academy of Philadelphia" opened in 1751 and was the first college in North America which simultaneously taught both the ornamental knowledge of the arts and the practical skills necessary for making a living. The four other colleges then in existence in the English colonies — Harvard, William and Mary, Yale, and Princeton — were all schools for educating the clergy, rather than preparing their students for lives of business and public service.
     The University of Pennsylvania School of Medicine was the first and only medical school in the thirteen American colonies when, in the fall of 1765, students enrolled for "anatomical lectures" and a course on "the theory and practice of physik." By organizing a medical faculty separate and distinct from the collegiate faculty, Penn's trustees effectively created the first university in North America, though the corporate name continued as the College of Philadelphia until 1779.
     The founder of the School of Medicine was a young Philadelphia physician, John Morgan. The early faculty, including Morgan, had earned medical degrees at the University of Edinburgh and supplemented Edinburgh's courses with further study in London. London offered advanced training in anatomy in private schools owned by men who had become famous in their field. Clinical practice was taught by eminent preceptors in the great city hospitals.
     Due to their training abroad, the University's founding faculty introduced two important elements in American medical education. With the University of Edinburgh as their model, they chose to build their medical school within an institution of higher learning. With the background of their hospital experience in London, they chose to emphasize the need to supplement medical lectures with bedside teaching, which for some time had been provided to apprentice physicians by practitioners at the Pennsylvania Hospital. Founded by Benjamin Franklin, this hospital was located within a few blocks of the College.
     For more than a century, the pattern of medical education established in 1765 remained relatively unchanged. Not all medical schools, it is true, followed Pennsylvania's lead in forming academic ties; in fact, the growth of non-academic proprietary schools became something of a scandal. It is true also that bedside teaching under a preceptor was a traditional practice rather than a requirement. But, though often violated, the standards and procedures introduced by Pennsylvania remained the guiding force in medical education throughout most of the nineteenth century.
     During this period, Pennsylvania enjoyed an unchallenged pre-eminence as the leading institution of medical education on the continent. The School of Medicine's faculty was famous throughout the nation — Benjamin Rush in medicine, Philip Syng Physick in surgery, Robert Hare in chemistry, and around the mid-century, William Pepper in medicine and Joseph Leidy in anatomy. In 1847, when a group of physicians organized the American Medical Association, they acted to insure the new organization's prestige by naming the Professor of Medicine at Pennsylvania, Nathaniel Chapman, as first president.