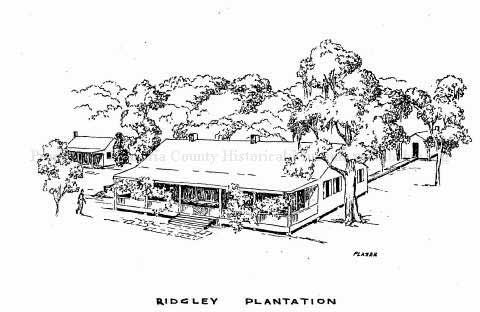 Dr. A. A. Platter's line drawing of the Ridgely Plantation
Image courtesy of the Brazoria County Historical Museum
     "Family records relate that in about 1855 Mordello and Sarah [Armour Munson] built a long, rambling ranch house — four bedrooms, a living room, a dining room, and a kitchen. The story is told that one spring day they were walking through the woods when a wild turkey hen suddenly flew up from her nest. They decided then and there that this would be the location of their new home. It was about three-quarters of a mile to the west of "Hard Castle" [their first home at Bailey's Prairie] on their newly acquired 300 acres. The house backed up to Mill Bayou, and they named it "Ridgely." Always careful and apprehensive of fire, they housed the kitchen in a separate building nearby, connected to the main house by a covered walkway. A smaller separate building with two rooms was added as Mordello's office, and this later became the "boys' room." Mordello and Sarah moved their family to the new home and lived there the rest of their lives. The house burned a few years after Mordello's death in 1903, and the lands were divided among their children in 1907. Almost all of these particular lands are still owned by their descendants today" [Williamson,
The Munsons of Texas, an American Saga].