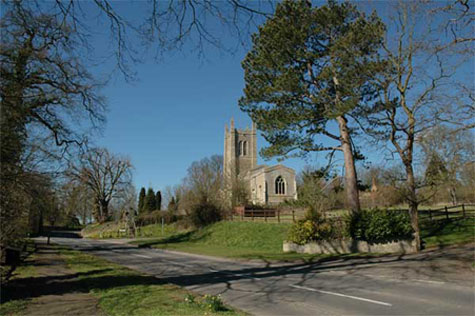 The village now known as Odell lies to the north of the county town of Bedford, near the villages of Pavenham, Milton Ernest, Turvey and Harrold.
     There is evidence that there was a church building in Odell (rhymes with yodel) village from as early as 1220, when Robert of Dunton is recorded as minister. A coffin lid also survives from this century. The present All Saints, however, dates from the 15th century. Built of limestone from Northamptonshire, it is a little untypical of Bedfordshire churches. In the late 17th century the building was greatly improved and in 1820 a clock was put in the tower. Further improvements were made in 1868, and in 1958 a sixth bell was added to the ring.
     One of the more famous ministers at All Saints was
Peter Bulkeley

. Born in Odell in 1582, he became its rector in 1624, but since he did not "conform" to the requirements of the establishment, was suspended. In May 1635, like many other Nonconformists of the time, he emigrated to New England on the
Susan and Ellen
. On arrival he moved on to found the city of Concord, MA, becoming its first minister.
Links:
Odell, Bedfordshire article on Wikipedia, the free encyclopedia.
GENUKI, Colin Hinson's UK and Ireland Genealogy website
     Odell
     Bedfordshire