William Benjamin Kennedy Jr.1
b. 11 October 1930, d. 8 November 1949
William Benjamin Kennedy Jr.|b. 11 Oct 1930\nd. 8 Nov 1949|p2902.htm|William Benjamin Kennedy|b. 8 Feb 1894\nd. 22 Jan 1985|p1282.htm|Eva Butler|b. 8 Oct 1901\nd. 27 Sep 1976|p2901.htm|Walter Kennedy|b. 22 Nov 1842\nd. 28 Nov 1926|p1281.htm|Sarah K. Munson|b. 9 Jun 1857\nd. 13 Aug 1913|p116.htm|||||||
1st cousin 2 times removed of
George Poindexter
Munson
Sr.
3rd cousin of
Laura Jane
Munson
.
Family Background: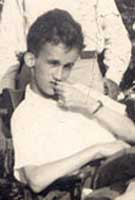 Buddy Kennedy
William Benjamin
Kennedy
Jr.
was born on 11 October 1930 in
Jefferson County, Texas
.
1,3,2
He was the son of
William Benjamin
Kennedy
and
Eva
Butler
.
2,1
He died on 8 November 1949 in
Angleton, Brazoria County, Texas
, at age 19.
2,1

He was buried on 9 November 1949 in
Angleton Cemetery
.
2,1

     Buddy was afflicted with spina bifida and was confined to a wheelchair. A side effect of his condition was hydrocephalus that caused his skull to expand to a massive size. Buddy amazed his doctors by living far beyond what was expected. He could read by age three, and he attended school, usually sitting in on his Aunt Addie's class. Near the end of his life he began having seizures caused by the hydrocephalus, and at age nineteen, he was laid to rest.
Citations
[S427] William B. Kennedy Jr. tombstone, Angleton Cemetery, Angleton, Texas; photographed by the writer on 5 July 2003.
[S1220] William Benjamin Kennedy Jr, death certificate 63408 (31 Mar 1950), Texas Department of Public Health, Austin.
[S679] Texas Department of State Health Services, Texas Birth Index, 1903-1997 (Austin: Texas Department of Health, Bureau of Vital Statistics), p. 1029.