Thomas Eagle Vaughan1
b. 11 September 1947, d. 31 December 1959
Thomas Eagle Vaughan|b. 11 Sep 1947\nd. 31 Dec 1959|p6838.htm|Carl Vaughan Jr.|b. c 1916|p2849.htm|Hannah Frances Smith|b. 29 Jul 1917\nd. 22 Sep 2006|p2848.htm|||||||Frank T. Smith|b. 5 Dec 1892\nd. 7 May 1978|p2847.htm|Ruth Munson|b. 19 Oct 1895\nd. 20 Mar 1995|p2824.htm|
1st cousin 3 times removed of
George Poindexter
Munson
Sr.
3rd cousin 1 time removed of
Laura Jane
Munson
.
Family Background: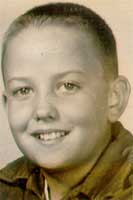 Tommy Vaughan
Thomas Eagle
Vaughan
was born on 11 September 1947 in
Jefferson County, Texas
.
1
He was the son of
Carl
Vaughan
Jr.
and
Hannah Frances
Smith
.
1
He died on 31 December 1959 in
Port Arthur, Jefferson County, Texas
, at age 12.
2
Hudson Alan Smith writes:
I will never forget my cousin. He was a 2 years older than me. The biggest shock of my life was the day he died. That was December 31, 1959. He was 12 and I was 10. He was shot on the stairs of a home on 5th street in Port Arthur by a kid that found his grandfathers pistol, and was playing with it.

Tommy had green eyes and was the toughest kid in Robert E. Lee Elementary school. He used to protect me from the older kids at school and in the neighborhood.

His father adored him. Tommy would hide in the floorboard of Carl's car so that he could go out to Taylors Bayou with him. They had a place out there. Tommy had a little car that his father had made for him. It was like a go cart only it had a body with fenders and all. It had a cushman engine in it if I remember correctly. It was the neatest thing.2
Citations
[S679] Texas Department of State Health Services, Texas Birth Index, 1903-1997 (Austin: Texas Department of Health, Bureau of Vital Statistics), 1947 Births: 3355.
[S1123] Hudson Alan Smith, "Re: Thomas Eagle Vaughan," e-mail messages from <e-mail address> (Doha, Qatar) to Laura M. Cooper, 18 May 2007.