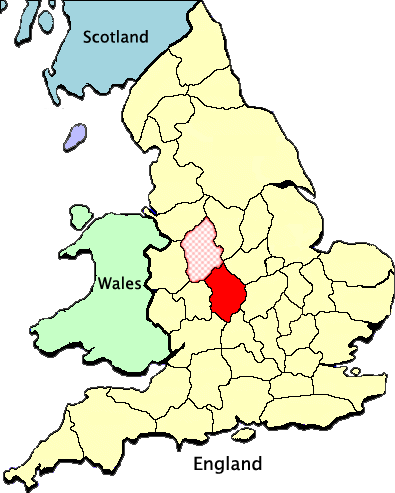 Tamworth has existed since Saxon times, it was sacked by Danes in the 9th century. Defenses in the form of a castle were constructed against Danish invaders by Ethelfleda, Lady of the Mercians, the daughter of King Alfred the Great.
     In the 11th century, a Norman castle was built on the site of the Saxon one, which still exists to this day. Grants of borough privileges, including rights to a third additional fair in 1588, consolidated Tamworth's historic importance as 'the seat of Saxon kings'.
     Tamworth expanded to become one of the most populous towns in the west midlands by 1670 when the combined hearth tax returns from Warwickshire ad Staffordshire list a total of some 320 households. Its strategic trade advantage lay with control of the two vital packhorse bridges across the Anker and the Tame on the route from London to Chester. While it remained a local market town, it did a brisk trade providing travellers with the staple bread, ale and accommodation, maintaining trading links as far afield as Bristol. Charles II's reconfirmation of its borough's privileges in 1663 gave the town an added boost, as confirmed by Richard Blome's description of its celebrated market, well served with corn, provisions and lean cattle.
     Tamworth was historically split between Staffordshire (crosshatched on the map) and Warwickshire, with the county boundary running through the town center. Staffordshire was made to include the entire borough in 1888.
Links:
Historic Tamworth's Homepage
Tamworth article on Wikipedia, the free encyclopedia.
GENUKI, Colin Hinson's UK and Ireland Genealogy website
     Tamworth
     Warwickshire
About the Fairfield Family


     Chadbourne