Laura Jane Underwood
b. 10 August 1850, d. 16 April 1938
Laura Jane Underwood|b. 10 Aug 1850\nd. 16 Apr 1938|p17.htm|Ammon Underwood|b. 13 Feb 1810\nd. 17 Nov 1887|p72.htm|Rachel Jane Carson|b. 4 Feb 1820\nd. 14 Feb 1896|p73.htm|Asa Underwood|b. 30 Aug 1754\nd. 3 Oct 1834|p135.htm|Mercy Durant|b. 1770\nd. 10 Oct 1850|p136.htm|William C. Carson|b. 9 Jan 1790\nd. a 8 Dec 1830|p76.htm|Catherine J. Patterson|b. c 1795\nd. 1 Jul 1875|p77.htm|
Aunt of
Louise
Underwood
.
Great-grandaunt of
Laura Jane
Munson
.
Family Background: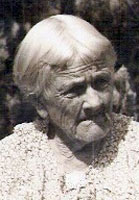 Laura Jane Underwood
Laura Jane
Underwood
was born on 10 August 1850 in
Columbia, Brazoria County, Texas
,
1,2
(now
East Columbia
). She was the daughter of
Ammon
Underwood
and
Rachel Jane
Carson
.
1
She married
William Harry
Diggs
on 1 January 1873 in
Brazoria County, Texas
.
3
She died on 16 April 1938 in
Angleton, Brazoria County, Texas
, at age 87.
1,4,5

She was buried on 19 April 1938 in
Old Columbia Cemetery, West Columbia, Brazoria County, Texas
. The 1851 birth year on her gravestone is contradicted by her death certificate and her appearance in the 1850 Census.
6,1

     Laura Jane was born in the
Underwood home

in Columbia. Twice before 1900, the house had to be moved back from the Brazos because of eroding river bank. At the time of the second move the house was "cut in half" and the two structures were situated on adjacent lots nearer the avenue. After Laura Jane married, she and
Harry
moved into the half that had been moved to the adjacent lot, and it was there that they raised their children. The home was completely destroyed in a 1915 hurricane. Sometime between 1900 and 1910,
Harry
and Laura Jane moved to Angleton where they lived with their daughter
Ella
.
Harry
died in 1917, and Laura Jane continued to live with
Ella
until her death in 1938.
Additional Data
Laura J. Underwood appeared on the 1 June 1850 Federal Census of Brazoria County, Texas, in the household of her parents, Ammon and Rachel J. Underwood.2



Laura J. Underwood appeared on the 1 June 1860 Federal Census of Columbia, Brazoria County, Texas, in the household of her parents, A. and Rachel Underwood.7



Laura Underwood appeared on the 1 June 1870 Federal Census of Columbia, Brazoria County, Texas, in the household of her parents, Ammon and Rachel Underwood.8



Laura and W.H. Diggs appeared on the 1 June 1880 Federal Census of Brazoria County, Texas, enumerated 5 June 1880. Their children Ella, Carrie and William were listed as living with them.9



Laura Diggs was named as a co-heir in the will of her parents, Ammon Underwood and Rachel J. Underwood, made 3 December 1886 in Columbia, Brazoria County, Texas.10



Laura U. and William H. Diggs appeared on the 1 June 1900 Federal Census of Columbia, Brazoria County, Texas, enumerated 1 June 1900. Their children Carrie and William A. were listed as living with them.11



Laura U. Diggs appeared on the 15 April 1910 Federal Census of Angleton, Brazoria County, Texas, in the household of Ella D. Harris, her daughter, with her husband William H. Diggs, and son William A.12



Laura U. Diggs appeared on the 1 January 1920 Federal Census of Angleton, Brazoria County, Texas, in the household of Ella D. Harris, her daughter.13



Laura U. Diggs appeared on the 1 April 1930 Federal Census of Angleton, Brazoria County, Texas, in the household of Ella D. Harris, her daughter.14