John Hanks Munson
b. 6 February 1916, d. 3 January 1986
John Hanks Munson|b. 6 Feb 1916\nd. 3 Jan 1986|p29.htm|George Poindexter Munson Sr.|b. 12 Aug 1873\nd. 7 Jan 1944|p18.htm|Louise Underwood|b. 8 Jul 1880\nd. 5 Sep 1946|p19.htm|George P. Munson|b. 4 Jun 1832\nd. 19 Apr 1878|p20.htm|Matilda A. Davis|b. 22 Feb 1850\nd. 25 Feb 1882|p21.htm|Joseph P. Underwood|b. 26 Feb 1845\nd. 1 Feb 1925|p66.htm|Louisa A. B. Hanks|b. 3 Jun 1847\nd. 2 Feb 1912|p67.htm|
Son of
George Poindexter
Munson
Sr.
Son of
Louise
Underwood
.
Uncle of
Laura Jane
Munson
.
Family Background: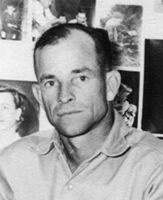 Johnnie Munson, Sr.
John Hanks
Munson
was born on 6 February 1916 at
Bailey's Prairie, Brazoria County, Texas
.
1,2
He was the son of
George Poindexter
Munson
Sr.
and
Louise
Underwood
. He married
Billie
Marshall
on 27 May 1939.
3
He died on 3 January 1986 at his home,
Sugarland, Fort Bend County, Texas
, at age 69.
2,4
He was buried in
Munson Cemetery, Bailey's Prairie, Brazoria County, Texas
.
5

     John Hanks, the fifth child of George and Louise, was the only one of the children born in the family home

at Bailey's Prairie. He grew up in
Brazoria County
, and appears there in the household of his parents as a three year old in the 1920 census

, and a fourteen year old in the 1930 census.
6,7

He graduated from
West Columbia High School
and studied civil engineering at Texas A&M College (now
Texas A&M University
). He worked as a civil engineer for the Jefferson Lake Sulphur Company, the City of Freeport, and Dow Chemical Company in Freeport. The family lived in
Freeport
for many years before moving to Sugarland in the early 1960s.
     Johnnie was a man of many interests and talents. He designed, constructed, and landscaped a beautiful pond in the backyard of each of his three homes that the writer remembers. He was an avid sailor and provided many good times aboard his sailboat for family and friends. However, his real love was photography, and he took many of the photographs seen here. His skill was such that he was often hired to photograph weddings and other events. The accompanying photograph is of Johnnie in his darkroom holding one of his cameras. In the background are photos he took, developed and printed of various family members including one of the writer.