Emma Munson Kennedy
b. 15 May 1888, d. 28 October 1969
Emma Munson Kennedy|b. 15 May 1888\nd. 28 Oct 1969|p7.htm|Walter Kennedy|b. 22 Nov 1842\nd. 28 Nov 1926|p1281.htm|Sarah Kimbrough Munson|b. 9 Jun 1857\nd. 13 Aug 1913|p116.htm|William Kennedy II|b. 1800\nd. 1869|p2903.htm|Mary Haile|b. 1812\nd. 1894|p2904.htm|Mordello S. Munson|b. 25 Apr 1825\nd. 13 Oct 1903|p113.htm|Sarah K. Armour|b. 3 Sep 1831\nd. 31 Jan 1887|p114.htm|
1st cousin 1 time removed of
George Poindexter
Munson
Sr.
2nd cousin 1 time removed of
Laura Jane
Munson
.
Family Background: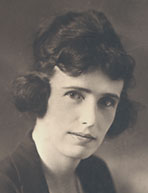 Emma Kennedy
Emma Munson
Kennedy
was born on 15 May 1888 at
Waverly Plantation, near Chenango, Brazoria County, Texas
.
1
She was the daughter of
Walter
Kennedy
and
Sarah Kimbrough
Munson
. She married
Henry Hayward
Sanders
.
2
She died on 28 October 1969 in
Brazoria County
at age 81.
3
She was buried in
Angleton Cemetery, Angleton, Brazoria County, Texas
.
4

     Emma graduated from
Angleton High School
and worked for most of her life at the Brazoria County Courthouse in Angleton as the office manager for the Texas A&M Extension Service. She didn't marry until she was in her late sixties. She had known
Hy
Sanders
for quite some time, but he was married to a woman who had for years been confined to a mental hospital. When she died, he and Emma married. The marriage took place in a hospital where
Hy
was recovering from a car accident. He died in 1957, just a few years after they married.
Additional Data
Emma Kennedy appeared on the 1 June 1900 Federal Census of Brazoria County, Texas, in the household of her parents, Walter and Sarah Kennedy.5



Emma Kennedy appeared on the 15 April 1910 Federal Census of Angleton, Brazoria County, Texas, in the household of her parents, Walter and Sarah M. Kennedy.6



Emma Kennedy appeared on the 1 January 1920 Federal Census of Angleton, Brazoria County, Texas, in the household of her father Walter Kennedy.7



Emma and Addie Kennedy appeared on the 1 April 1930 Federal Census of Port Arthur, Jefferson County, Texas, enumerated 8 April 1930, living in a boarding house.8