Secretary Hugh McCulloch1
b. 8 December 1808, d. 24 May 1895
Secretary Hugh McCulloch|b. 8 Dec 1808\nd. 24 May 1895|p8635.htm|Capt. Hugh McCulloch|b. 8 May 1773\nd. 1 Nov 1830|p8592.htm|Abial Perkins|b. 28 Oct 1774\nd. 24 Sep 1856|p8593.htm|Adam McCulloch|b. 1742\nd. May 1812|p8585.htm|Louisa Brown|b. a 1747\nd. May 1812|p8586.htm|Thomas Perkins Jr.|||Susannah Hovey|||
1st cousin 3 times removed of
Ruth Minerva
Fairfield
.
1st cousin 5 times removed of
Laura Jane
Munson
.
Family Background: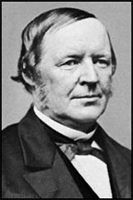 Hugh McCulloch
Hugh
McCulloch
was born on 8 December 1808 in
Kennebunk, York County, Maine
.
4,3
He was the son of
Capt.
Hugh
McCulloch
and
Abial
Perkins
.
2,3
He married first
Eunice
Hardy
, daughter of
Col.
Enoch
Hardy
and
Eunice
Knowlton
, on 23 June 1834 at
Kennebunk, York County, Maine
.
3
He married first
Susan Maria
Man
Plattsburg, New York, daughter of
Dr.
Albon
Man
and
Maria
Platt
, on 21 March 1838 Plattsburg, New York.
5,3
He died on 24 May 1895 at his home in
Prince George's County, Maryland
, at age 86.
5,3
He was buried in
Rock Creek Cemetery, Washington, D.C.
.

     Hugh McCulloch made the Midwest his permanent home in 1833 by moving to Fort Wayne. Others who moved there from the Kennebunks about the same time included
Asa
and
Olive
Stone
Fairfield
and family, Olive being Hugh's first cousin, Asa's brothers
Oliver
and
Charles
and their families, and perhaps
Sarah
, younger sister of Asa, Oliver and Charles, who married in Fort Wayne a few years later.
     Hugh was named Judge of the Probate Court in 1834 after which he joined the Fort Wayne branch of the Indiana Bank. In 1855, the Bank of the State of Indiana was chartered and McCulloch became its President. He was called to Washington by President Abraham Lincoln to serve as a member of the Comptroller of the Currency, and eventually Secretary of the Treasury. Hugh McCulloch became known as the "father of the national banking system." The front design of a
twenty dollar national bank note
issued in 1902 features Hugh McCulloch, and the back has a vignette of an allegorical America.
     Hugh began his education in a local school in Kennebunk Village (between the Landing and Kennebunkport). One of his teachers was William Emerson, brother of Ralph Waldo Emerson. Later he attended an academy at Saco, just northeast of Kennebunk. On 9 Sep 1825, at the age of 17, he entered Bowdoin College in Brunswick, Maine, but left after two years due to a lack of funds. However, Bowdoin awarded him an A.B. degree, listing him in the class of 1829, and conferred upon him the honorary degree of A.M. in 1863 and that of LL.D. in 1889. He also received a degree in "Doctor of Laws" from the College of New Jersey on 19 Dec 1866. He was a teacher in Kennebunk, 1826-29; studied law in Kennebunk and Boston, and in 1833 removed to Fort Wayne, IN, where he practiced law. Before leaving for the west, he secured letters of recommendation from Francis O. Watts, Augustus Peabody and Daniel Webster who wrote on 14 May 1833, "Although this letter is addressed to you, it is intended to express to anyone to whom it may be shown, my good opinion of your education, talents, and acquirements; and my confident expectation, should you settle in the western states, that you will make yourself distinguished in the community and in your profession."
     Besides practicing law, Hugh was cashier of the Fort Wayne branch of the State Bank of Indiana, 1835-56. When the institution was reorganized as the Bank of the State of Indiana in 1856 he was elected president, serving till 1863 when Secretary Salmon P. Chase made him the first Comptroller of the Currency. McCulloch stipulated in his acceptance that as soon as he had given the newly-enacted national bank law a start, his resignation would be accepted. This law established a new system of national banks and a new government agency. The Comptroller's job was to organize and supervise the new banking system through regulations and periodic examinations. The work of reorganization was particularly difficult, as the large eastern banks distrusted the system and disliked having their individuality absorbed in a national system. This objection was compromised by allowing the banks to retain their former names, prefixing or adding the designation "National." In less than three years the national banking system was in full operation without disturbing the current business of the country.
     Upon the resignation of William P. Fessenden, Secretary Chase's successor, in March, 1865, Hugh was appointed by President Lincoln as the 27
th
Secretary of the Treasury, his term commencing March 9, and he was retained in President Johnson's cabinet.
     Secretary McCulloch raised the amount due 500,000 discharged soldiers and sailors in less than six months, and also converted $1,000,000,000 of short-time obligations into a funded debt in less than two years. He was opposed to legal-tender notes and advocated the return to specie payments and a steady reduction of the national debt, and his views were sustained by Congress.
     He is credited with having founded the Secret Service, established 5 July 1865 (as part of the Treasury Department) for the express purpose of stopping counterfeiting operations which had sprung up in this country following the introduction of paper currency during the Civil War. He swore in the first chief, William P. Wood.
     He resigned the office, 3 March 1869, and in 1870 he established in London a branch of the banking-house of Jay Cooke & Co. Upon the outbreak of the great panic of September, 1873, the American firm failed. The London firm was carried through the panic and continued business for some time.
     During the administration of President Arthur he declined a position on the tariff commission, but in 1884, upon the resignation of Walter Q. Gresham, he succeeded him as the 36
th
Secretary of the Treasury, serving 31 October 1884 to 7 March 1885. He was the only Secretary of the Treasury to hold office under four presidents (Lincoln, Johnson, Arthur, and Cleveland).
     He is the author of a series of letters written in London for the New York Tribune (1875),
Men and Measures of Half a Century
(1882). and
The Quest of Heracles and Other Poems
(circa 1893)
Addresses, Speeches, Lectures and Letters on Various Subjects
, a compilation, was published in 1890, and
The Letters of Hugh McCulloch and Eunice Hardy, 1832-1835
, in 1991.
6,7,8
Hugh McCollouch appeared on the 1840 U.S. Census in
Wayne township, Allen County, Indiana
. In his household were one male 30-40; one female under 5; two females 15-20; two females 30-40; one employed in agriculture; three employed in commerce.
9

This family has not been located on the 1850 Census.
Hugh and
Susan
McCulloch
appeared on the 1 June 1860 Federal Census of
Fort Wayne, Allen County, Indiana
, enumerated 3 August 1860. Their children
Fred
and
Louisa
were listed as living with them.
10