Hattie Bonner
b. 30 November 1901, d. 6 November 1978
Family Background: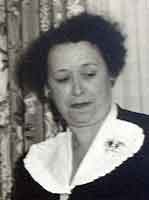 Hattie Bonner
Hattie
Bonner
was born on 30 November 1901 in
Lufkin, Texas
. She married
George Caldwell
Kennedy
, son of
Walter
Kennedy
and
Sarah Kimbrough
Munson
, in 1926 in
Port Arthur, Jefferson County, Texas
. She died on 6 November 1978 in
Angleton, Brazoria County, Texas
, at age 76.
1
She was buried in
Angleton Cemetery
.
2

Hattie and George C. Kennedy appeared on the 1 April 1930 Federal Census of Jefferson County, Texas, enumerated 29 May 1930.3

Citations
[S31] Texas Department of Health Death Records, 1964-1998, online <http://vitals.rootsweb.com/tx/death/search.cgi>.
[S427] Hattie B. Kennedy tombstone, Angleton Cemetery, Angleton, Texas; photographed by the writer on 5 July 2003.
[S433] George C. Kennedy household, 1930 U.S. Census, Jefferson County, Texas, population schedule, Precinct 1, enumeration district (ED) 123-45, sheet 63A/63, dwelling 1069, family 1111; National Archives micropublication T626, roll 2362.