George Caldwell Kennedy
b. 31 July 1896, d. 26 April 1981
George Caldwell Kennedy|b. 31 Jul 1896\nd. 26 Apr 1981|p8.htm|Walter Kennedy|b. 22 Nov 1842\nd. 28 Nov 1926|p1281.htm|Sarah Kimbrough Munson|b. 9 Jun 1857\nd. 13 Aug 1913|p116.htm|William Kennedy II|b. 1800\nd. 1869|p2903.htm|Mary Haile|b. 1812\nd. 1894|p2904.htm|Mordello S. Munson|b. 25 Apr 1825\nd. 13 Oct 1903|p113.htm|Sarah K. Armour|b. 3 Sep 1831\nd. 31 Jan 1887|p114.htm|
1st cousin 1 time removed of
George Poindexter
Munson
Sr.
2nd cousin 1 time removed of
Laura Jane
Munson
.
Family Background: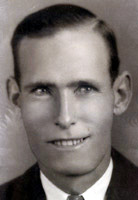 George Kennedy
George Caldwell
Kennedy
was born on 31 July 1896 at
Bryan Beach, Brazoria County, Texas
. He was the son of
Walter
Kennedy
and
Sarah Kimbrough
Munson
. He married
Hattie
Bonner
in 1926 in
Port Arthur, Jefferson County, Texas
. He died on 26 April 1981 at his home in
Angleton, Brazoria County
, at age 84.
1
He was buried in
Angleton Cemetery
.
2

     In 1870, 1884 and 1885, George's grandfather,
Mordello
Munson
, bought adjoining properties at Bryan Beach totaling 144 1/2 acres, but because of beach growth, the original land had expanded to approximately 320 acres by the 1940s. At some date
Mordello
built a large summer home on the beach property, about two hundred yards from the water. This became the Munson family's summer home. George, who was named for his uncle,
George Caldwell
Munson
, was born there in 1896. One of his first memories was the 1900 Storm. The family was at Bryan Beach, and a carriage was sent to take them to Angleton where they rode out the storm. The beach house was destroyed.
     The Kennedy's inland home was
Waverly Plantation, near Chenango
, but George's father sold it and moved his family to Angleton about 1903.
3
George graduated, from
Angleton High School
where he organized their first football team. He also attended
San Antonio Academy
. He and his brother
Bill
moved to Port Arthur where
Frank
Smith
had secured jobs for them at the Texas Company. Later they operated a petroleum distributing business there. He met and married
Hattie
while living in Port Arthur. They moved back to Angleton, and he and
Armour
Munson
owned and operated a meat market in the 1930s. He was a cattleman most of his life and accumulated much acreage, mostly in Brazoria County.
     George was always active in the annual Brazoria County Fair, and in 1955 was President of the Fair Association. For years he provided steers to boys and girls to raise and show at the Fair, and in 1953 he bred the Grand Champion Steer. The 1981 Brazoria County Fair was dedicated to his memory. He was also active in the Cattlemen's Association, Lion's Club and a number of other organizations.
     Writer's note: Cuz and Cousin Hattie, who had no children of their own, were much more like grandparents than distant cousins to my brothers and me. We moved next door to them in 1945 when I was two years old, and I spent every minute I could at their house from the time I can remember.
Additional Data
George C. Kennedy appeared on the 1 June 1900 Federal Census of Brazoria County, Texas, in the household of his parents, Walter and Sarah Kennedy.4



George C. Kennedy appeared on the 15 April 1910 Federal Census of Angleton, Brazoria County, Texas, in the household of his parents, Walter and Sarah M. Kennedy.5



George Kennedy appeared on the 1 January 1920 Federal Census of Angleton, Brazoria County, Texas, in the household of his father Walter Kennedy.6



George C. and Hattie Kennedy appeared on the 1 April 1930 Federal Census of Jefferson County, Texas, enumerated 29 May 1930.7