William Benjamin Bradshaw1,2
b. 21 October 1864, d. 27 April 1917
Family Background: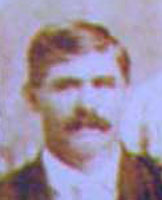 Wiliam B. Bradshaw
William Benjamin
Bradshaw
was born on 21 October 1864 in
Simpson County, Kentucky
.
2
He married
Mannie Willis
Davis
, daughter of
Joseph William
Davis
and
Martha Emily 'Mattie'
Day
.
1
He died on 27 April 1917 in
Texas
at age 52.
2
William B. and
Mannie D.
Bradshaw
appeared on the 1 June 1900 Federal Census of
Ellis County, Texas
, enumerated 6 June 1900. Their daughter
Modena M.
was listed as living with them.
3

Citations
[S20] Thurmond A. Williamson, The Munsons of Texas, an American Saga, First Edition manuscript (Dallas: n.pub., 1987), 106.
[S690] Jane Matthews, "Chart," e-mail message from <e-mail address> (Luling, Texas) to Laura M. Cooper, 30 May 2005.
[S695] William B. Bradshaw household, 1900 U.S. Census, Ellis County, Texas, population schedule, Precinct 3, enumeration district (ED) 24, sheet 5A/57A, dwelling 85, family 88; National Archives micropublication T623, roll 1630.