Robert Milam Munson
b. 20 October 1918, d. 2 January 2006
Robert Milam Munson|b. 20 Oct 1918\nd. 2 Jan 2006|p30.htm|George Poindexter Munson Sr.|b. 12 Aug 1873\nd. 7 Jan 1944|p18.htm|Louise Underwood|b. 8 Jul 1880\nd. 5 Sep 1946|p19.htm|George P. Munson|b. 4 Jun 1832\nd. 19 Apr 1878|p20.htm|Matilda A. Davis|b. 22 Feb 1850\nd. 25 Feb 1882|p21.htm|Joseph P. Underwood|b. 26 Feb 1845\nd. 1 Feb 1925|p66.htm|Louisa A. B. Hanks|b. 3 Jun 1847\nd. 2 Feb 1912|p67.htm|
Son of
George Poindexter
Munson
Sr.
Son of
Louise
Underwood
.
Uncle of
Laura Jane
Munson
.
Family Background: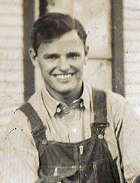 Bobby Munson
James Robert Milam
Munson
was born on 20 October 1918 in the
Underwood home, Columbia, Brazoria County, Texas
,
1,2,3
(now
East Columbia
). He was the son of
George Poindexter
Munson
Sr.
and
Louise
Underwood
. He married
Jessica Pauline
Lang
on 4 March 1949 at
First Presbyterian Church, Angleton, Brazoria County, Texas
.
3
He died on 2 January 2006 in
St. Luke's Episcopal Hospital, Houston, Harris County, Texas
, at age 87. His obituary

was published in
The Facts
on 5 January 2006.
2,4
Following services at First Presbyterian Church on 6 January 2006, he was buried in
Munson Cemetery, Bailey's Prairie
.
2
     Bobby was named for his dad's half first cousin and brother-in-law,
Robert Milam
Caldwell
II
. James is for another of the Caldwells. Ruth Anna Munson believed it was for his grandfather Munson's stepfather,
James Peckham
Caldwell
, but it may have been for Milam's older brother,
James Pearce
Caldwell
. He dropped James from his name at some point. He told Ruth Anna the reason was that growing up, he didn't like that his brother Johnnie had only two given names and he had three.
     Bobby grew up at
Bailey's Prairie
and
Columbia
and appears in
Brazoria County
in the household of his parents as a one year old in the 1920 census

, and an eleven year old in the 1930 census.
5,6

He graduated from
West Columbia High School
and attended Texas A&M College (now
Texas A&M University
), but dropped out to join the Naval Air Force during World War II. After the war, he worked for the Cannan Insurance Company in Angleton. He eventually bought the company and reorganized it as the Munson Insurance Agency. Under his ownership, it grew into the largest insurance agency in Brazoria County. Bobby sold the company and retired on 1 June 1985.