James Peckham Caldwell
b. 6 January 1793, d. 16 November 1856
Family Background: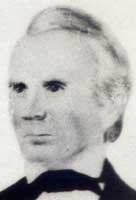 Major James P. Caldwell
James Peckham
Caldwell
was born on 6 January 1793 in
Baltimore, Baltimore City, Maryland
.
1
He married
Ann Binum
Pearce
, daughter of
William
Pearce
and
Sarah
Bray
, on 12 May 1835 at
Oakland Plantation, Gulf Prairie, Coahuila and Texas, Republic of Mexico
.
2
He died on 16 November 1856 at the home of
Mordello
and
Sarah
Munson
,
Ridgely Plantation, Bailey's Prairie, Brazoria County, Texas
, at age 63.
3
He was buried in
Peach Point Cemetery, Gulf Prairie, Brazoria County, Texas
.
4
     James Peckham Caldwell, a widower, migrated from Kentucky to Austin's Colony in 1831. Mary Austin Holley wrote in her diary after meeting James at Peach Point Plantation in 1838, that she had known Major Caldwell in Hopkinsville, Kentucky -- "a genteel man." Though it is not known where in the colony he lived prior to his marriage to Ann Munson, it was surely somewhere in the area that became Brazoria County. The year after his arrival, he took part in conflicts that arose between the colonists and Mexican authorities.
1
     A committe of thirteen men that included
Henry William
Munson
and James P. Caldwell were appointed on 20 June 1832 to decide whether to attack Fort Velasco. The committee, meeting at Brazoria, agreed by 10 o'clock the following night that it was necessary to reduce Fort Velasco, and appointed "a rendezvous on the east side of the river armed and equipped for the combat" at 10 o'clock the morning of the 22nd. The 112 volunteers were organized into three companies — forty-seven men under John Austin, the senior officer; forty-seven under Henry S. Brown, second in command; and eighteen men in the marines under William J. Russell who was appointed lieutenant in command of the schooner
Brazoria
and ordered to bombard the Mexicans from the Brazos River. Henry William Munson was with Russell among the marines. James P.
Caldwell
was in Austin's company.
5,6
     On June 25, the Texians were in position to attack the fort at Velasco. The battle began about midnight and lasted until daybreak. By nine o'clock, more than two-thirds of Ugartechea's men were dead or wounded. John Austin demanded surrender of the fort and Ugartechea agreed under the conditions that his officers be allowed to keep their side arms and that the survivors be allowed to peacefully leave the country. These concessions were made and the fort was surrendered. In the Battle of Velasco, seven Texians were killed and twenty-seven wounded, one of whom was James P.
Caldwell
. Henry William took him home to Oakland where Ann nursed him back to health. Forty-two Mexicans were killed and seventy wounded.
     Meanwhile, the party on Turtle Bayou composed and signed the Turtle Bayou Resolutions which explained their rebellion against Bradburn as part of the reform movement of Federalist general Antonio López de Santa Anna who had recently won a victory over administration forces at Tampico. This brought about the removal of Bradburn and release of the prisoners. With the successful outcome at Anahuac, there was no need for the Texians at Velasco to proceed, and they returned to their homes.
     At the battle of Velasco, on 26 June 1832, Russell is said to have fired the first shot of the Texas Revolution and the confrontations at Anahuac and Velasco are often considered the first battles, — the Lexington and Concord — of the Texas Revolution.
7,8
     When Ann Munson was widowed in 1833, she was left with a 554 acre cattle and cotton plantation, several dozen slaves, and four young sons. James
Caldwell
, whom she had nursed back to health after the Battle of Velasco the year before, was probably a supportive friend during this time. They married in 1835 by "statement of intent," and the document is on file in the Brazoria County Courthouse:
Department of Brazos
Jurisdiction of Columbia

Be it known that we, the parties Jas. P. Caldwell and Nancy B. Munson, of lawful age, of said Jurisdiction, and State of Coahuila and Texas, wishing to unite ourselves in the Bonds of Matrimony, and there being no Priests to celebrate the same; therefore I, Jas. P. Caldwell, do agree to take and by these presents do take, Nancy B. Munson, to be my lawful wife, and as such to love, cherish, support, and protect her, forsaking all others, keeping myself true and faithful unto her alone; and I, Nancy B. Munson, do hereby agree to take, and by these presents do take, James P. Caldwell, to be my lawful husband, as such to love, honor, and obey him, forsaking all others, keeping myself true and faithful unto him alone, and we both bind ourselves mutually to each other in the sum of $10,000.00 to have our marriage celebrated by the Priest of this Colony, or by some other person authorized so to do as soon an opportunity offers, all of which the parties promise in the name of God, in the presence of the subscribing witnesses and of Silas Dinsmore, Primary Judge of the Jurisdiction. In testimony whereof we have this day set our hand and seal this 12th day of May, 1835.


Jas. P. Caldwell
N.B. Munson

Witness:
A. Brigham
P.D. Grayson
Sterling McNeel
S. Dinsmore.2
     James Caldwell built Oakland into a successful cotton, sugar, cattle, and hog plantation. In the late 1830s and early 1840s the plantation owners of Brazoria County, who had depended mostly on cotton as their cash crop, began to successfully grow sugar cane. From time to time they had tried numerous other cash crops including corn, wheat, figs, oranges, and indigo with little success. James Caldwell was a leader in the experimental cultivation of sugar cane, and had one of the first sugar mills in the area. Oakland Plantation became one of the leading sugar plantations of Texas during the decade of the 1840s. It was once referred to as "the best sugar plantation in Brazoria County." In 1847, James Caldwell enlarged the plantation by the purchase of about 216 acres from his neighbor, the widow of Andrew Westall. This brought Oakland to its present size of 770 acres, and none of it has ever been sold.
9
     On or about 16 April 1852, James and
Ann
Caldwell
with their two children moved from Oakland Plantation to the "Valley of the San Marcos" in
Hays County, Texas
. It is written that they moved for reasons of Ann's failing health. For some years prior, many letters referred to Ann's illnesses. She had endured fifty-two years of rough frontier life and had given birth to ten children.
Gerard
was in his early twenties and was named "manager" of Oakland Plantation.
Mordello
, married and living at Bailey's Prairie, was named "curator."
George
, almost twenty, apparently stayed at Oakland and helped with its operation.
     While on a visit to Brazoria County in October of 1856, James Caldwell became ill with yellow fever and died at the home of his stepson, Mordello
Munson
, at Bailey's Prairie, on November 16, 1856, at the age of 63. He was buried in the Peach Point Cemetery across the road from Oakland Plantation beside the graves of his friends,
Henry William
Munson
and
Stephen F.
Austin
. George accompanied his mother and half-sister on their trip back to San Marcos, arriving there on December 19, 1856, "being the ninth day after leaving home." Ann
Caldwell
lived in the San Marcos area the rest of her life.
3
James P. and
Ann B.
Cauldwell
appeared on the 1 June 1850 Federal Census of
Brazoria County, Texas
, enumerated 8 November 1850. Her children from a previous marriage,
Gerad B.
Munson
and
George P.
Munson
, and their children,
Robert M.
Cauldwell
and
Mary J.
Cauldwell
, were listed as living with them, as were John C. Moore, an overseer, George T. Hinds, a bricklayer, and T. Obrian, a plasterer.
10