Virginia Morris Munson
b. 18 July 1922
Virginia Morris Munson|b. 18 Jul 1922|p31.htm|George Poindexter Munson Sr.|b. 12 Aug 1873\nd. 7 Jan 1944|p18.htm|Louise Underwood|b. 8 Jul 1880\nd. 5 Sep 1946|p19.htm|George P. Munson|b. 4 Jun 1832\nd. 19 Apr 1878|p20.htm|Matilda A. Davis|b. 22 Feb 1850\nd. 25 Feb 1882|p21.htm|Joseph P. Underwood|b. 26 Feb 1845\nd. 1 Feb 1925|p66.htm|Louisa A. B. Hanks|b. 3 Jun 1847\nd. 2 Feb 1912|p67.htm|
Daughter of
George Poindexter
Munson
Sr.
Daughter of
Louise
Underwood
.
Aunt of
Laura Jane
Munson
.
Family Background: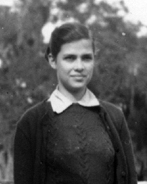 Ginger Munson
Virginia Morris
Munson
was born on 18 July 1922 in the "little house,"
Columbia, Brazoria County, Texas
,
1
(now
East Columbia
). She is the daughter of
George Poindexter
Munson
Sr.
and
Louise
Underwood
. She married
Creath Morris
McGee
on 2 August 1948 in
Bethel Presbyterian Church, East Columbia, Brazoria County, Texas
.
1,2
     Virginia was named for her grandaunt,
Virginia
Hanks
Taylor
, but has always been called Ginger. She grew up at
Bailey's Prairie
and
Columbia
and appears in
Brazoria County
in the household of her parents as a seven year old in the 1930 census.
3

She graduated from
West Columbia High School
as Valedictorian and attended
Texas Woman's University
in Denton. Ginger enlisted in the WAVES during World War II and served in San Francisco and Hawaii. After the war, she earned a degree in education from the
University of Houston
. After her children were grown, she earned a degree in library science from the
University of Houston, Clear Lake
. She was a librarian at an inner city elementary school in
Houston
until her retirement in 1984. Ginger is very interested in family history and has generously contributed to the writer's efforts. She and her daughter
Kathy
enjoy bird watching and traveling, their most recent trip being to England and Wales in 2002.
Citations
[S28] Interview with Virginia (Munson) McGee (Mrs. Virginia M. McGee; Houston, Texas), by Laura Munson Cooper, 1966. Transcript held in 2003 by Cooper (1804 Holm Oak St.; Arlington, TX 76012-5608).
[S2] Brazoria County Marriage Book 15: 565, no. 1694, County Clerk's Office, Angleton, Texas.
[S37] George P. Munson household, 1930 U.S. Census, Brazoria County, Texas, population schedule, Precinct 1, Angleton-West Columbia Road, enumeration district (ED) 20-4, sheet 8A/41, dwelling 156, family 162; National Archives micropublication T626, roll 2301.