Virginia Morris Hanks
b. 16 March 1840, d. 20 February 1929
Virginia Morris Hanks|b. 16 Mar 1840\nd. 20 Feb 1929|p92.htm|John Armstrong Hanks|b. 19 Apr 1812\nd. 27 Apr 1889|p87.htm|Euphemia Matthias Morris|b. 10 May 1822\nd. 29 Mar 1850|p88.htm|John Hanks|b. 1770\nd. 29 Jun 1839|p99.htm|Jane D. Armstrong|b. bt 1768 - 1769\nd. 22 Nov 1851|p100.htm|Enos Morris|b. c 10 Apr 1773\nd. 18 Feb 1832|p1929.htm|Elizabeth (—?—) (Hough-Morris)|b. c 1785\nd. 25 Aug 1824|p1930.htm|
Aunt of
Louise
Underwood
.
Great-grandaunt of
Laura Jane
Munson
.
Family Background: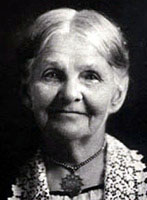 Virginia Hanks
Virginia Morris
Hanks
was born on 16 March 1840 in
Pittsboro, Chatham County, North Carolina
.
1,2,3
She was the daughter of
John Armstrong
Hanks
and
Euphemia Matthias
Morris
. She married
James Peyton
Taylor
, son of
William P.
Taylor
and
Ann
Ramsey
, on 12 June 1860 in
Pittsboro
.
4,2
She died on 20 February 1929 according to her gravestone
1
, but her death certificate says she died 17 February 1930 in
Angleton, Brazoria County, Texas
, at age 89.
3

She was buried on 17 February 1930 in
Old Columbia Cemetery, West Columbia, Brazoria County, Texas
.
3,1

Jim
and Virginia Hanks Taylor moved to Texas from Pittsboro in May 1866 accompanied by their daughter
Effie
, and Virginia's brothers,
John
and
Martin
, and her younger sister,
Lou
. She was always called "Aunt Taylor" by her nieces and nephews. The Taylors lived between East and West Columbia on land that was later given to
Joe
Munson
by their daughter, Effie, and is now owned by Joe's widow,
Ruth Anna
. Their home stood on high ground, safe from the overflows for which the Brazos is famous. The house has been gone for many years, but to this day, the land upon which they lived is called the "
Taylor Place
".
     The following appeared in the
Angleton Times
, July 22, 1920:
     Angleton, Tex., July 22. — Mr. and Mrs. James Peyton Taylor of this place celebrated the sixtieth anniversary of their marriage June 12, the occasion attracting more than ordinary attention throughout Brazoria County and Southwest Texas from the fact that both Mr. Taylor and his wife long have been identified with educational work here and elsewhere.

     The fiftieth anniversary of this remarkable couple, which also was celebrated here, was participated in by 300 former pupils of both, some of whom then were grandparents. Three of those who attended were a woman, her daughter and granddaughter, all of whom had been educated by Mrs. Taylor.

     Both Mr. Taylor and his wife were born in Chatham County, N.C., the former near Pittsboro, the latter within the town. They were married June 12, 1860. Mr. Taylor was graduated from the University of North Carolina in 1859. Mrs. Taylor, as Miss Virginia Hanks, received her education in a school for young women in Pittsboro, where she afterward taught from 1858 to 1860, when, after her marriage, she devoted her time to assisting her husband.

     Mr. Taylor served throughout the civil war with the Fifth North Carolina regulars. At the close of the war Mr. and Mrs. Taylor came to Texas and settled in Brazoria County, where both engaged in educational work for the greater part of the intervening years until 1910, Mr. Taylor being elected to the office of county superintendent of public instruction in November of that year, in which capacity he served four years.

     Since Mr. Taylor left office neither he nor his wife have engaged actively in educational work, but both take interest in affairs pertaining to the education of young folks of the county.
Additional Data
Virginia M. Hanks appeared on the 1 June 1850 Federal Census of Lower Regiment, Chatham County, North Carolina, in the household of her father John A. Hanks.5



Virginia Hanks appeared on the 1 June 1860 Federal Census of Pittsboro, Chatham County, North Carolina, in the household of her father John A. Hanks.6



Virginia and James Taylor appeared on the 1 June 1870 Federal Census of Columbia, Brazoria County, Texas, enumerated 26 July 1870. Their daughter Hellen was listed as living with them.7



V.M. and Jas. P. Taylor appeared on the 1 June 1880 Federal Census of Brazoria County, Texas, enumerated 7 June 1880. Their daughter Effie was listed as living with them.8



Virginia and James P. Taylor appeared on the 1 June 1900 Federal Census of Columbia, Brazoria County, Texas, enumerated 1 June 1900. Their daughter Effie H. was listed as living with them.9



Virginia M. and J.P. Taylor appeared on the 15 April 1910 Federal Census of Brazoria County, Texas, enumerated 12 May 1910. Their daughter Effie T. was listed as living with them, as were Effie's husband Henry Austin Perry, and Virginia's brother John W. Hanks.10



Virginia M. Taylor appeared on the 1 January 1920 Federal Census of Angleton, Brazoria County, Texas, in the household of Henry Austin and Effie T. Perry, her son-in-law and daughter, with her husband James P. Taylor.11



On 12 June 1920, Virginia and Virginia Taylor celebrated their sixtieth wedding anniversary

at Angleton, Brazoria County, Texas.2