Sara Louise Munson
b. 3 September 1932
Sara Louise Munson|b. 3 Sep 1932|p37.htm|George Poindexter Munson Jr.|b. 13 Nov 1907\nd. 1 Jan 2000|p26.htm|Eulalia Beatrice German|b. 18 Apr 1903\nd. 3 Feb 1971|p33.htm|George P. Munson Sr.|b. 12 Aug 1873\nd. 7 Jan 1944|p18.htm|Louise Underwood|b. 8 Jul 1880\nd. 5 Sep 1946|p19.htm|||||||
Granddaughter of
George Poindexter
Munson
Sr.
Granddaughter of
Louise
Underwood
.
1st cousin of
Laura Jane
Munson
.
Family Background: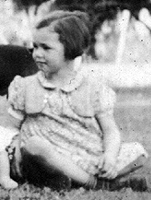 Sara Munson
Sara Louise
Munson
was born on 3 September 1932 in
Harris County, Texas
.
1
She is the daughter of
George Poindexter
Munson
Jr.
and
Eulalia Beatrice
German
.
1
She married
Gordon
Deats
circa 1959 in
Houston, Harris County, Texas
.
2
     Sometime after September 1941, at which time Sara's father was called to active duty,
Eula Bee
and the girls moved to
East Columbia
to live with George's aunt,
Laura
Underwood
.
Ruth
and Sara attended West Columbia schools and graduated from
West Columbia High School
in the late 1940s.
     Sara studied at the
Royal Academy of Dramatic Arts, London
. She taught private drama classes in Angleton for several years, and was a member of the Alley Theater Company in Houston. Sara graduated from
U.C.L.A.
She was elected as a Woodrow Wilson Fellow for 1966-67, and did her graduate studies at
Stanford
where she majored in English literature.

     Dr. Sara Deats, Ph.D. is is Distinguished Professor and Chair of the English Department at the
University of South Florida
, and Co-director of the Center of Applied Humanities. As an academic author, she has authored, co-authored and edited a number of books.