George Poindexter Munson Jr.
b. 13 November 1907, d. 1 January 2000
George Poindexter Munson Jr.|b. 13 Nov 1907\nd. 1 Jan 2000|p26.htm|George Poindexter Munson Sr.|b. 12 Aug 1873\nd. 7 Jan 1944|p18.htm|Louise Underwood|b. 8 Jul 1880\nd. 5 Sep 1946|p19.htm|George P. Munson|b. 4 Jun 1832\nd. 19 Apr 1878|p20.htm|Matilda A. Davis|b. 22 Feb 1850\nd. 25 Feb 1882|p21.htm|Joseph P. Underwood|b. 26 Feb 1845\nd. 1 Feb 1925|p66.htm|Louisa A. B. Hanks|b. 3 Jun 1847\nd. 2 Feb 1912|p67.htm|
Son of
George Poindexter
Munson
Sr.
Son of
Louise
Underwood
.
Uncle of
Laura Jane
Munson
.
Family Background: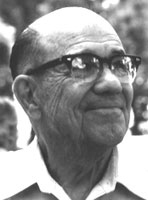 George Munson, Jr.
George Poindexter
Munson
Jr.
was born on 13 November 1907 in the
Underwood home, Columbia, Brazoria County, Texas
,
1
(now
East Columbia
). He was the son of
George Poindexter
Munson
Sr.
and
Louise
Underwood
. He married
Eula Bee
German
on 28 July 1930.
2
He married second
Mrs.
Ethel B.
Jungman
, a widow, on 19 June 1973 in
Houston, Harris County, Texas
.
2,3
He died on 1 January 2000 in
St. Luke's Episcopal Hospital, Houston
, at age 92.
4
He was buried according to the traditions of the United States Army, and next to his first wife
Eula Bee
, in the
Munson Cemetery
near where he grew up on Bailey's Prairie.
5

     The oldest of George and Louise Underwood Munson's seven children, George was always called Bubber (pronounced Bubba) by his brothers and sisters, and Uncle Bubber by his nephews and nieces. He grew up in
Brazoria County
, and appears in
Columbia
with his parents as a two year old in the household of his grandparents
Joe
and
Lou
Underwood
in the 1910 census

, and as a twelve year old in the household of his parents in the 1920 census.
6,7

The Munson home at
Bailey's Prairie
burned in late 1909, and the family was living with the Underwoods in 1910 until their new home was completed. In 1920, they were again in Columbia, and were probably living in what the family always called "the little house." They often lived there during the school year, although their home at Bailey's Prairie was their primary residence.
     After graduating high school in [East] Columbia in a class of just he and one other boy, George attended Texas A&M College (now
Texas A&M University
). He graduated there in 1928 with a degree in civil engineering and a commission of 2
nd
lieutenant in the U.S. Army Reserve. He met
Eula Bee
at a school dance while he was still at A&M, and she a student at Baylor. On the 1930 census

, George appears as a 22 year old civil engineer rooming in
Waco
and working in the highway industry.
8
     George was employed by the Texas Highway Department from 1932 until September 1941 when he was called into active duty in the grade of captain with an assignment as a company commander. He was on a train to California, from where he was to ship out, when Roosevelt's "a date that will live in infamy" speech was broadcast over the loudspeaker. He once related to the writer that the timing was personally fortunate because his orders were changed and he was sent to the European theater rather than the Asian. Had his original orders stood, he almost certainly would have been one of the unfortunate participants of the Bataan Death March.
     George was given command of the 843
rd
Engineer Aviation Battalion in 1943, and in that assignment, participated in the Normandy Invasion, the liberation of Paris, and the allied advance across Western Europe to Munich, Germany. Rebuilding bridges and airports were among the responsibilities of his battalion, and it was they who rebuilt Le Bourget, the Paris airfield where Charles Lindberg had landed the "Spirit of St. Louis" in 1927 on the first trans-Atlantic flight.
     After the war, George remained in the army reserve in the grade of colonel. He was the district maintenance engineer in the Houston District of the Texas Highway Department until January 1952 when he was again called to active duty for the Korean conflict in the grade of full colonel. He was given command of the 44
th
Engineer Group (regiment) at Ft. Leonard Wood, Missouri. Later he was sent to France as commander of the 20
th
Engineer Brigade. Thus in the course of his active military career, he commanded in sequence, a company, a battalion, a regiment, and a brigade.
     After the Korean conflict, he once again returned to the Army Reserve where in the grade of Brigadier General, he commanded the 406
th
Engineer Brigade, and in the grade of Major General, the 75
th
Army Maneuver Area Command. He retired from the Reserve in 1965. He had also resumed his career with the Texas Highway Department where he was in charge of the design, construction and maintenance of roads and bridges in the Houston district. Following his retirement from the Texas Highway Department in 1972, George was executive director of the Coastal Industrial Water Authority in Liberty, Chambers, and Harris Counties. In that position, he supervised the design, construction, and operation of one of the largest water supply and transportation installations ever constructed in Texas. In 1983, at the age of 75, he retired his position as executive director of the Coastal Industrial Water Authority.
     The writer remembers him for his love of family, country, history, and tradition, and for all the wonderful stories he was so willing to share.