Joe McDonald Ingraham
b. 5 July 1903, d. 27 May 1990
Family Background: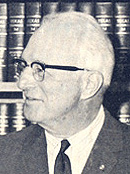 Joe Ingraham
Joe McDonald
Ingraham
was born on 5 July 1903 in
Blackburn, Pawnee County, Oklahoma
.
1
He married
Laura Louise
Munson
, daughter of
George Poindexter
Munson
Sr.
and
Louise
Underwood
, on 29 October 1954 in
Houston, Harris County, Texas
.
2,3
He died on 27 May 1990 in
Houston
at age 86.
1,4
     Joe Ingraham received a law degree in 1927 from the National University (now
George Washington University, Washington, D.C.
) Law School in Washington, D.C. He practiced law for a short time in
Stroud, Oklahoma
, and for several years in
Fort Worth
, before moving to
Houston
in 1935. He was an officer in the Army Air Corps in World War II and achieved the grade of Lieutenant Colonel. He practiced law in Houston until 1954 when he received an appointment as United States District Judge for the Southern District of Texas.
5
     Judge Ingraham was the presiding judge at the Mohammed Ali draft dodging trial. On 20 June 1967, the jury returned a guilty verdict and Judge Ingraham sentenced Ali to the maximum allowed - five years and a $10,000 fine. He also stripped him of his passport.
     Honorable Joe Ingraham was sworn in as United States Circuit Judge for the Fifth Circuit on 31 December 1969 in
Houston
.
5,2


     After Joe and
Chichi
married they made their home in Houston, but enjoyed spending time at their beach house at
Surfside
near Freeport. They had no children.