Laura Louise Munson
b. 13 December 1913, d. 28 September 2005
Laura Louise Munson|b. 13 Dec 1913\nd. 28 Sep 2005|p28.htm|George Poindexter Munson Sr.|b. 12 Aug 1873\nd. 7 Jan 1944|p18.htm|Louise Underwood|b. 8 Jul 1880\nd. 5 Sep 1946|p19.htm|George P. Munson|b. 4 Jun 1832\nd. 19 Apr 1878|p20.htm|Matilda A. Davis|b. 22 Feb 1850\nd. 25 Feb 1882|p21.htm|Joseph P. Underwood|b. 26 Feb 1845\nd. 1 Feb 1925|p66.htm|Louisa A. B. Hanks|b. 3 Jun 1847\nd. 2 Feb 1912|p67.htm|
Daughter of
George Poindexter
Munson
Sr.
Daughter of
Louise
Underwood
.
Aunt of
Laura Jane
Munson
.
Family Background: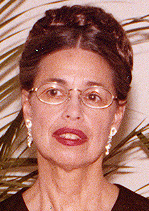 Laura Munson
Laura Louise
Munson
was born on 13 December 1913 near
West Columbia, Brazoria County, Texas
.
1
She was the daughter of
George Poindexter
Munson
Sr.
and
Louise
Underwood
. She married
Joe McDonald
Ingraham
on 29 October 1954 in
Houston, Harris County, Texas
.
2,3
She died on 28 September 2005 in
Houston
at age 91. Her obituary
was published in the
Houston Chronicle
on 2 October 2005.
4
     Laura Louise Munson was named for her mother's sister,
Laura
Underwood
, and for her mother. She was known to family and many friends as "Chichi," a nickname given her by brother
Joe
who, when learning to talk, called her "e-chichi" (little sister). She was born at the Taylor place between East and West Columbia, but closer to the latter, home of her mother's aunt and uncle,
Jim
and
Virginia
Hanks
Taylor
, during the great 1913 overflow of the Brazos River. Even though the Taylor home was built on stilts, Dr. Marcus Weems, who arrived by boat to attend the birth, had to crawl in through a window. Chichi grew up in
Brazoria County
, and appears there in the household of her parents as a six year old in the 1920 census

, and a sixteen year old in the 1930 census.
5,6

The family home was at
Bailey's Prairie
,

but the Munsons lived in
East Columbia
during the school year.
     After graduation from
West Columbia High School
Chichi lived with
Ligon
and
Catherine
Munson
Foster
(her older sister) in Oklahoma and attended the
University of Oklahoma
. Moving closer to home, she attended the
University of Houston
. She got a teaching job in a one-room, one-teacher country school near West Columbia. Discipline was a problem, especially with the older boys, and prior education of her students was poor. The experience so traumatized Chichi that she quit teaching permanently and went to business school in Houston.
     After business school, Chichi had several jobs before landing the position of legal secretary in the Houston firm of Matthews and Ferguson, and for
Joe
Ingraham
, an independent lawyer who rented space from the firm. After she and
Joe
married they made their home in Houston, but enjoyed spending time at their beach house at
Surfside
near Freeport.
Joe
died in 1990. They had no children.