Colonel James Raulston1,2
b. 16 June 1778, d. 7 August 1844
Colonel James Raulston|b. 16 Jun 1778\nd. 7 Aug 1844|p6237.htm|Matthew Raulston|b. c 1742\nd. 29 Dec 1800|p10975.htm|Martha "Polly" Moore|b. c 1744\nd. c 1806|p10976.htm|William Ralston|b. c 1708\nd. Aug 1767|p10982.htm|Eleanor (—?—)|||John Moore||p10984.htm|Jean (—?—) (Moore)||p10985.htm|
2nd great-granduncle of
William Lemuel
Horn
Jr.
4th great-granduncle of
Laura Jane
Munson
.
Family Background: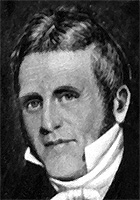 Colonel James Raulston
Colonel
James
Raulston
was born on 16 June 1778 in
Augusta County, Virginia
.
1,2,3
He was the son of
Matthew
Raulston
and
Martha "Polly"
Moore
.
2
He married
Jane
Simmons
, daughter of
Robert
Simmons
and
Ann
Miller
, on 8 January 1802 in
Jefferson County, Tennessee
.
1,2
He died on 7 August 1844 in
Jackson County, Alabama
, at age 66.
1,2,3
     James Raulston operated an inn in the Chestnut Mound section of Jackson County, now Putnam County, Tennessee, that became known as Raulston's Stand. He was a delegate to Knoxville in 1801, and was instrumental in the enactment of the necessary legislation to create the county of Jackson.
     James met Jane Simmons about 1801 when he was working on his Uncle George's newspaper, the
Knoxville Gazette
. Jane's parents were waiting for the river to rise so their flat boats could move down the Tennessee River on the first leg of their river journey to Louisiana. Traditionally, Jane never saw her family again, except for John who returned with Colonel Raulston to Tennessee after the Battle of New Orleans.
     James moved to Sequatchie Valley in 1808, and he and Captain Robert Bean entered over 57,000 acres of land there.
     in 1809 he was commissioned into the 18th Regiment of Jackson's army to fight against the Creek Indians in the Great Bend of Tennessee. In 1812, Jackson again called him to serve in command of the 3
rd
Regiment of Tennessee. He became Colonel Raulston and served with General William Carroll in the Battle of New Orleans.
     Colonel Raulston found that his log cabin was located on the line between Tennessee and Alabama when the area was surveyed in 1817. He first moved his bedroom to the Tennessee side of the cabin so that he could stay involved in Tennessee politics; then in 1828 he moved his bedroom to the other side of the cabin, declared his home to be in Alabama, and was elected a representative of Jackson County in the Alabama Legislature.
James Raulston was mentioned in his father
Matthew
Roulstone
's will dated 29 December 1800 in
Jefferson County, Tennessee
.
4

Children of Colonel James Raulston and

Jane

Simmons
William O.

Raulston

5 b. 20 Oct 1802, d. 1870

Anne

Raulston

5 b. 19 Aug 1804, d. 1880

Robert Simmons

Raulston

5 b. 1806, d. 1867

Matthew Harvey

Raulston

5 b. 2 May 1808, d. 5 Oct 1875

Samuel

Raulston

5 b. 22 Jan 1810, d. 25 May 1866

Sampson W.

Raulston

5 b. 3 Nov 1811, d. 6 Dec 1862

Moses

Raulston

5 b. 1813, d. 1827

Elizabeth

Raulston

5 b. 20 Dec 1814, d. 23 Oct 1876

Martha

Raulston

5 b. 9 May 1816, d. 30 Dec 1897

Evander McKeever

Raulston

5 b. 16 Sep 1818, d. 22 Oct 1870

James Wallas

Raulston

5 b. 15 May 1821, d. 1897

Napoleon Bonapart

Raulston

5 b. 30 Nov 1822, d. 1878

John Simmons

Raulston

5 b. 15 Aug 1824, d. 25 Nov 1906

Brice Byrne

Raulston

5 b. 6 Jan 1826, d. 4 Apr 1913