Helen Euphemia 'Effie' Taylor
b. 4 March 1861, d. 13 July 1942
Helen Euphemia 'Effie' Taylor|b. 4 Mar 1861\nd. 13 Jul 1942|p101.htm|James Peyton Taylor|b. 20 Oct 1839\nd. 5 Dec 1928|p93.htm|Virginia Morris Hanks|b. 16 Mar 1840\nd. 20 Feb 1929|p92.htm|William P. Taylor|b. 20 Oct 1814\nd. 29 Jan 1872|p1670.htm|Ann Ramsey|b. 20 Nov 1825\nd. 6 Feb 1906|p1671.htm|John A. Hanks|b. 19 Apr 1812\nd. 27 Apr 1889|p87.htm|Euphemia M. Morris|b. 10 May 1822\nd. 29 Mar 1850|p88.htm|
1st cousin of
Louise
Underwood
.
1st cousin 2 times removed of
Laura Jane
Munson
.
Family Background: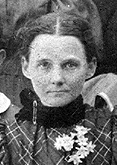 Effie Taylor
Helen Euphemia 'Effie'
Taylor
was born on 4 March 1861 in
Pittsboro, Chatham County, North Carolina
.
1,2
She was the daughter of
James Peyton
Taylor
and
Virginia Morris
Hanks
.
1
She married
Henry Austin
Perry
on 4 August 1909 in
Brazoria County, Texas
.
3
She died on 13 July 1942 in
Angleton, Brazoria County, Texas
, at age 81.
1,2

She was buried on 15 July 1942 in
Old Columbia Cemetery, West Columbia, Brazoria County, Texas
.
1,2

     Effie, an only child, was five years old when she moved from Pittsboro, North Carolina, to Brazoria County, Texas, with her parents. She grew up on the "
Taylor Place
" between East and West Columbia, and apparently lived there most of her adult life. At age 48, she became the second wife of
Henry
Perry
, a grandnephew of
Stephen F.
Austin
. In 1910, she and Henry were living with Effie's parents, but before 1920, they all moved to Angleton where they continued to live together. Effie inherited the "Taylor Place" from her parents. Sometime before her death, she deeded the property to
Joe
Munson
because, she said, he reminded her of her father. The "Taylor Place" has now passed to Joe's widow
Ruth Anna
.
Hellen Taylor appeared on the 1 June 1870 Federal Census of Columbia, Brazoria County, Texas, in the household of her parents, James and Virginia Taylor.4



Effie Taylor appeared on the 1 June 1880 Federal Census of Brazoria County, Texas, in the household of her parents, Jas. P. and V.M. Taylor.5



Miss Effie H. Taylor appeared on the 1 June 1900 Federal Census of Columbia, Brazoria County, Texas, in the household of her parents, James P. and Virginia Taylor.6



Effie T. Perry appeared on the 15 April 1910 Federal Census of Brazoria County, Texas, in the household of her parents, J.P. and Virginia M. Taylor, with her husband Henry Austin Perry.7



Effie T. and Henry Austin Perry appeared on the 1 January 1920 Federal Census of Angleton, Brazoria County, Texas, enumerated 2 January 1920, with Effie's parents James P. and Virginia M. Taylor listed as living with them.8



Effie and Henry Austin Perry appeared on the 1 April 1930 Federal Census of Angleton, Brazoria County, Texas, enumerated 7 April 1930.9