Ann Binum Pearce
b. 17 April 1800, d. 6 September 1865
Ann Binum Pearce|b. 17 Apr 1800\nd. 6 Sep 1865|p2532.htm|William Pearce|b. c 1754\nd. 6 Nov 1813|p2668.htm|Sarah Bray|d. 6 Jun 1801|p2669.htm|Joshua Pearce|b. c 1735\nd. 17 Apr 1810|p2700.htm|Hannah Green||p2701.htm|||||||
Grandmother of
George Poindexter
Munson
Sr.
2nd great-grandmother of
Laura Jane
Munson
.
Family Background:
Appears on charts: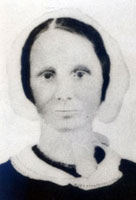 Ann "Nancy" Pearce
Ann Binum
Pearce
was born on 17 April 1800 in
Screven County, Georgia
.
1
She was the daughter of
William
Pearce
and
Sarah
Bray
. She married
Henry William
Munson
, son of
Jesse
Munson
, on 12 May 1817, probably at
Lunenburg, the Pearce plantation, near Cheneyville, Rapides Parish, Louisiana
.
2
She married
James Peckham
Caldwell
on 12 May 1835 at
Oakland Plantation, Gulf Prairie, Coahuila and Texas, Republic of Mexico
.
3
She died on 6 September 1865 in
Hays County, Texas
, at age 65.
1
She was buried in
San Marcos City Cemetery, Hays County, Texas
.     
     Ann, the youngest child of William and Sarah (Bray) Pearce, was just over a year old when her mother died in Georgia, and about three when she moved with her father and siblings to Louisiana Territory. She grew up at Lunenburg, the Pearce plantation, near Cheneyville in Rapides Parish. There is no record of where she and Henry William married, but it was surely in Rapides Parish, and probably at Lunenburg. The first seven years of marriage were spent in Rapides Parish, where their first four children, all sons, were born. In 1824, between February and September, all of
Jesse
Munson
's known descendants and their families moved to the Trinity River in the Atascosito (also written "Atascosita") District of Mexico, now Liberty County Texas. That is,
Henry William
, Ann, and their only surviving son,
William Benjamin
;
Micajah B.
Munson
, his wife
Elizabeth
and daughters
Ann Eliza
and
Martha Caroline
;
Jesse P.
Munson
, half-brother to Henry William and Micajah. The approximate date of their move to Texas comes from a letter dated "february 28th — 1825", the oldest document in the Munson family collection, written by
Delia
Pearce
Dunwoody
, Ann Munson's sister, from Bayou Beouff, Rapides Parish, Louisiana, to Mrs. Nancy B. Munson, Trinity River, Texas. (Ann was called "Nancy" by her family and even signed some legal documents with this name.) In the letter, Delia wrote, "I feel sorry that my letter which was rote in september [1824] did not go to you." Therefore, the time of their move can be established as between February 24, 1824, when William Benjamin was born in Louisiana, and September 1824, when Delia's letter went astray.
1
Ann appeared on the famous Atascosito District Census of 31 July 1826 as Ann B. Pearce, born in Georgia, the 26 year old wife of Henry W.
Munson
.
4
While living in the Atascosito District, two more children,
Mordello
and
Amanda Caroline
, were born to Henry and Ann.
     Four years after moving to the Atascosito District, the Mexican government still had not provided Henry William with a good title to his claim. Dissatisfied with the delay, a decision was made to move to Austin's Colony, and on 27 August 1828 in a private transaction, Henry bought land on Gulf Prairie in the future Brazoria County from
Stephen F.
Austin
. In November the family and their slaves traveled by barge to their new home that they named Oakland. Henry and Ann's only daughter,
Amanda Caroline
, died en route and was buried at sea.
1
Two sons,
Gerard
and
George
, were born at Oakland, the last in 1832, and the following year, Henry died of either yellow fever or cholera, probably the latter.
     When Ann Munson was widowed in 1833, she was left with a 554 acre cattle and cotton plantation, several dozen slaves, and four young sons. James
Caldwell
, whom she had nursed back to health after the Battle of Velasco the year before, was probably a supportive friend during this time. They married in 1835 by "statement of intent," and the document is on file in the Brazoria County Courthouse:
Department of Brazos
Jurisdiction of Columbia

Be it known that we, the parties Jas. P. Caldwell and Nancy B. Munson, of lawful age, of said Jurisdiction, and State of Coahuila and Texas, wishing to unite ourselves in the Bonds of Matrimony, and there being no Priests to celebrate the same; therefore I, Jas. P. Caldwell, do agree to take and by these presents do take, Nancy B. Munson, to be my lawful wife, and as such to love, cherish, support, and protect her, forsaking all others, keeping myself true and faithful unto her alone; and I, Nancy B. Munson, do hereby agree to take, and by these presents do take, James P. Caldwell, to be my lawful husband, as such to love, honor, and obey him, forsaking all others, keeping myself true and faithful unto him alone, and we both bind ourselves mutually to each other in the sum of $10,000.00 to have our marriage celebrated by the Priest of this Colony, or by some other person authorized so to do as soon an opportunity offers, all of which the parties promise in the name of God, in the presence of the subscribing witnesses and of Silas Dinsmore, Primary Judge of the Jurisdiction. In testimony whereof we have this day set our hand and seal this 12th day of May, 1835.


Jas. P. Caldwell
N.B. Munson

Witness:
A. Brigham
P.D. Grayson
Sterling McNeel
S. Dinsmore.3
Marriage by statement of intent was not uncommon in the early days of Anglo settlement in Coahuila and Texas. By law everyone was Roman Catholic, though in truth, few of the colonists were. Nevertheless, only a Catholic priest could legally perform marriages, and one was rarely available. When a priest did show up in an area, he often married couples who, having previously married by statement of intent, had begun a family. Such was the case with James and Ann Caldwell. Their son Milam was eighteen months old when on 4 December 1837 "License to celebrate the rights of Matrimony between James P. Caldwell and Ann B. Munson who were previously married by _______________" was issued.
5
Mordello S.
Munson
petitioned the Probate Court of
Brazoria County, Texas
, on 27 March 1848 to have the estates of
Henry W.
Munson
and
William B.
Munson
partitioned.
Henry William
died intestate in 1833, "possessed of considerable property and leaving a widow, Ann B., who has since intermarried with
James P.
Caldwell
, and four children, viz.
William B.
,
George
and
Gerrard
and your petitioner."
Henry William
's estate had never been divided. This action was probably prompted by the untimely death of
William Benjamin
only nine days earlier, who died "intestate and without issue, possessed of some property, real and personal..." The petition also asks to have guardians appointed to "defend the interests of said minors in this suit..." This included the two children of
James
and Ann B. Caldwell Henry B. Andrews was appointed guardian "as litera." He and Ann B. and
James P.
Caldwell
replied to the petition, all joining "in the prayer for the partition of said estate,"
Ann
stating that she was entitled to half of the community property.
     On 21 September 1848, James F. Perry, Joseph M. McCormick and William J. Bryan met at the house of
James P.
Caldwell
and proceeded to "appraise and partition the Estate of
Henry W
Munson
and
William B
Munson
between Ann B Caldwell and her children..." The estate was appraised at $26,825.00, including 9,699 acres of land as follows:
          554 acres at Oakland Plantation
          2,479 acres bought from William J. Bryan at $3.00 per acre
          2,222 acres on the Bernard in the Gray & Moore League
          4,444 acres on the Navidad.
The estate was divided into 64 shares for purposes of partition. Those receiving shares were Ann B. Caldwell (36),
Mordella
Munson
(9),
Gerrard
Munson
(9),
George
Munson
(9),
Robert
and
Mary
Caldwell
(1).
6
     On or about 16 April 1852, Ann and
James
Caldwell
with their two children moved from Oakland Plantation to the "Valley of the San Marcos" in
Hays County, Texas
. It is written that they moved for reasons of Ann's failing health. For some years prior, many letters referred to Ann's illnesses. She had endured fifty-two years of rough frontier life and had given birth to ten children.
Gerard
was in his early twenties and was named "manager" of Oakland Plantation.
Mordello
, married and living at Bailey's Prairie, was named "curator."
George
, almost twenty, apparently stayed at Oakland and helped with its operation.
     While on a visit to Brazoria County in October of 1856, James Caldwell became ill with yellow fever and died at the home of his stepson, Mordello
Munson
, at Bailey's Prairie, on November 16, 1856, at the age of 63. He was buried in the Peach Point Cemetery across the road from Oakland Plantation beside the graves of his friends,
Henry William
Munson
and
Stephen F.
Austin
. George accompanied his mother and half-sister on their trip back to San Marcos, arriving there on December 19, 1856, "being the ninth day after leaving home." Ann
Caldwell
lived in the San Marcos area the rest of her life.
7
Ann B. and
James P.
Caldwell
appeared on the 1 June 1850 Federal Census of
Brazoria County, Texas
, enumerated 8 November 1850. Her children from a previous marriage,
Gerad B.
Munson
and
George P.
Munson
, and their children,
Robert M.
Cauldwell
and
Mary J.
Cauldwell
, were listed as living with them, as were John C. Moore, an overseer, George T. Hinds, a bricklayer, and T. Obrian, a plasterer.
8

Ann B. Caldwell appeared on the 1 June 1860 Federal Census of
New Braunfels, Comal County, Texas
, in the household of
R.M.
and
Mary E.
Caldwell
, her son and daughter-in-law.
9