George Poindexter Munson
b. 4 June 1832, d. 19 April 1878
George Poindexter Munson|b. 4 Jun 1832\nd. 19 Apr 1878|p20.htm|Henry William Munson|b. 15 Jan 1793\nd. 6 Oct 1833|p2528.htm|Ann Binum Pearce|b. 17 Apr 1800\nd. 6 Sep 1865|p2532.htm|Jesse Munson||p2533.htm||||William Pearce|b. c 1754\nd. 6 Nov 1813|p2668.htm|Sarah Bray|d. 6 Jun 1801|p2669.htm|
Father of
George Poindexter
Munson
Sr.
Great-grandfather of
Laura Jane
Munson
.
Family Background:
Appears on charts: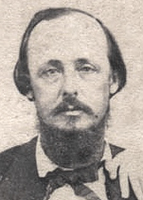 George Munson
George Poindexter
Munson
was born on 4 June 1832 at
Oakland Plantation, Gulf Prairie, Brazoria County, Texas
. He was the son of
Henry William
Munson
and
Ann Binum
Pearce
. He married
Matilda Agnes
Davis
, daughter of
Isaac S.
Davis
and
Matilda Sophia V.
Blakely
, on 13 February 1866 at Oakland Plantation in a ceremony performed by Reverend Peter Berthet.
1

He died intestate on 19 April 1878 at
Bailey's Prairie, Brazoria County, Texas
, at age 45.
2
He was buried in the
Munson Cemetery, Bailey's Prairie
.
3

Letters of administration were issued to
Agnes
Hawkins
in 1880.
2
     When George was born, Oakland Plantation was part of
Austin's Colony
in the Mexican state of Coahuila and Texas. He was only sixteen months old when his father died, and he was raised at Oakland by his mother and stepfather,
James
Caldwell
. The family spent the summers at
Old Velasco
on the Gulf, while the slaves ran the plantation. This was the practice of many plantation owners because of the hot, humid, and unpleasant summer weather inland as compared to the more pleasant sea breezes at the beach.     
Thurmond
Williamson
wrote of the Munson boys' early years:
On the plantation the boys learned early about the use of horses, guns, and dogs. They learned to hunt, and they acquired a willingness - even an eagerness - to join in the battles in later years against the Indians and against the Mexicans. They played among themselves, and probably they played with the black children. Correspondence in later years indicates that they felt care and compassion for the Blacks within a quasi-family relationship, but clearly in laborer and servant relationships. Despite slavery's obvious inequities, the Munson sons were born into and grew up knowing only a slave society, and, accepting it, they practiced it, fought for it, and gave it up with much regret.
     At an unknown date, but probably when he was about thirteen years old, George and his younger half-brother,
Milam
Caldwell
, attended school in
Egypt, Wharton County, Texas
. The school was under the supervision of the Reverend Mr. Hord with Mr. Wilson as headmaster. This was probably one of the early Methodist schools in Texas, as the Reverend Jesse Hord

was one of the founders of Methodism in the Republic of Texas. He arrived in Texas in November 1838, and between December 23 and April 15, 1839, he established the first Methodist congregations at Richmond, Matagorda, Brazoria, Bay Prairie, DeMoss, Texana, Velasco, East Columbia, and Houston. His 500-mile circuit included twenty preaching places. In succeeding years Hord's appointments included circuits at Washington (1839-41), Brazoria (1841-42), Brazoria mission "to people of colour" (1842-43), and Egypt (1843-45).
     In the spring of 1852, George was attending school near
San Marcos, Hays County, Texas
where his mother and stepfather had recently moved.
James
Caldwell
wrote
Mordello
Munson
that George had arrived at their home in Hays County on Friday evening, May 20, "having ridden 56 miles that day," and that "George will leave on Monday and the session will be out in July." He added that he hoped George "will go to Bastrop to study medicine."
4
He was probably speaking of
Bastrop Academy
, under the jurisdiction of the Methodist Episcopal Church, South, which opened at Bastrop in 1851. Administrators built a two-story pine building for $15,000; it had separate male and female study halls and a library of 1,000 volumes.
     George joined the Confederate Army in 1861 at age 29 and was a private throughout his enlistment. Confederate service records show he was in Company B, First (McCulloch's) Regiment Texas Cavalry (also known as First Regiment Texas Mounted Riflemen; Company G, Debray's Regiment (26
th
Texas Cavalry), Davis' Mounted Battalion; Companies F and A, 13
th
Texas Volunteers, (Cavalry, Artillery and Infantry), known at various times as the 4
th
(Bates') Regiment, Texas Volunteers, Bates' Battalion Texas Volunteers, and the Brazoria Coast Regiment; and Company H, 35
th
Texas Cavalry, (Brown's Regiment), formed by consolidation of the 12
th
(Brown's) Battalion Texas Cavalry, and four companies of the 13
th
(Bates') Texas Infantry.

     George mustered into service on 1 June 1861 at Camp Colorado,

Coleman County, Texas, Confederate States of America, He was a private in Company B, (Captain William A. Pitts' Company) First (McCulloch's) Regiment Texas Cavalry (also known as First Regiment Texas Mounted Riflemen).
5

This was the first regiment in Texas to be mustered into Confederate service in 1861. On 4 March 1861, Confederate secretary of war Leroy Pope Walker directed Benjamin McCulloch

to raise a regiment of ten companies of mounted riflemen to protect the Texas frontier between the Red River and the Rio Grande. McCulloch, hoping for a command east of the Mississippi River, turned the colonel's commission over to his brother, Henry Eustace McCulloch.

This was not only the first regiment in the state organized for Confederate service, but the original commission to Ben McCulloch was one of the first in the Confederacy.
     The Company Muster Roll, dated September and October, 1861, reports that George was absent on detached service at Fort Mason

from 26 October 1861. The Regimental Return for July, 1861, shows him "on express to Camp Cooper,"

and the September, 1861 Regimental Return, on detached service to Fredericksburg since the 24th of the month.
6
     In a letter to Major Samuel Boyer Davis, Assistant Adjutant General, dated December 26, 1861, Colonel McCulloch, writing from the headquarters of the West Military District in San Antonio, requests a transfer for George:
     George Munson a private in Co" B,, 1st Regiment of Texas Mounted Riflemen wishes to be transfered to Capt Perkins' Company of Col Bates Regiment.

     Mr Munson is a young man of property who lives on the Brosos where his property is and desires to be connected in the service with those whose special business it is to defend his property and home, he is a good relyable man and soldier that will do his duty any where he may go, is justly entitled to the favourable consideration of his officers, and as I cannot see that any injury could be done the service by the transfer respectfully ask that it may be granted, and if so that a copy of the order be sent to Capt Perkins at once.
Colonel McCulloch followed up with a letter written from Houston, 20 January 1862:
     George Munson a private in Co" B,, 1st Regiment of Texas Vol Riflemen provisional C.S. Army desires a transfer to Capt Perkin's Co of Col Bates' Regiment.

     Mr Munson is an excelent young man, and a good soldier, who has a large interest in land and negroes in the lower Brasos, and all his relations are living near Col. Bates's Camp, many of whom are in that Regiment, under these cercumstances and believing that Genl Hebert would readily consent to the transfer I directed Capt Pitts Co "B,, to permit Mr Munson to report to Capt Perkins and now respectfully ask for an order of transfer which I have before done in another communication to you I think.6
George probably knew Colonel Joseph Bates.

He was a politician and soldier who in 1854 moved to a large plantation on the west side of the San Bernard River in Brazoria County, where he engaged in farming and ranching until his death.
     Although he received a transfer by way of a special order dated 24 January 1862, George was not immediately given the assignment he wanted. Instead, he was transferred to DeBray's Mounted Battalion and ordered to report to Atchison's Company (26th Texas Cavalry,

Company G (Atchison's), DeBray's Regiment, Davis' Mounted Battalion). He mustered into service, DeBray's Regiment, in Galveston on 24 January 1862, the same date as the special order. Either he was already in Galveston, or the special order was postdated to reflect the date he was to report.
6
     In mid-1861 Samuel Boyer Davis

organized seven companies from Harris, Caldwell, Galveston, Leon, Montgomery, Washington, Liberty, and Fort Bend counties, formed them into Davis' Mounted Battalion, and became major of that unit. He also was assistant adjutant general at General Hébert's headquarters for the District of Texas. On December 7, 1861, Major Xavier B. DeBray assumed command of the mounted battalion when Davis assumed full-time administrative functions under Hébert. In February 1862 three more companies from Montgomery, Grimes, and Harris counties were added to DeBray's command, which was reorganized as the Twenty-sixth Texas Cavalry. When Hébert appointed Davis colonel of the new unit, members of the regiment protested and claimed the right to elect their own officers. Davis then resigned from the unit, and DeBray was elected regimental commander.
     In December 1861 Xavier Blanchard DeBray

was elected lieutenant colonel and commander of Debray's Texas Cavalry battalion and in March 1862 colonel of the Twenty-sixth Texas Cavalry. From January to June of 1862 he commanded on Galveston Island. In July he assumed command of the military subdistrict of Houston in the Department of Texas. He commanded some of the Confederate troops in the recapture of Galveston on January 1, 1863. On February 13, 1863, he was relieved of command of the eastern subdivision of Texas in the Trans-Mississippi Department, and on May 30 he took command of the troops on Galveston Island in the District of Texas, New Mexico, and Arizona. Although he was assigned temporary command of the eastern subdistrict of Texas in June 1863, by July 1 he had resumed his position on Galveston Island. Debray led his regiment in the Red River campaign in Louisiana during the spring of 1864. For his participation in the battles of Mansfield and Pleasant Hill, he was appointed brigadier general by General Edmund Kirby Smith on April 13, 1804, but this was never confirmed by President Jefferson Davis. Nevertheless, he commanded a brigade consisting of the Twenty-third, Twenty-sixth, and Thirty-second Texas Cavalry regiments.
     In April 1862 George received a transfer and was mustered out of Company G, DeBray's Regiment. On 16 June 1862 at Velasco, he enrolled for a period of three years or war in Colonel Bates' regiment, the one to which he had previously requested a transfer. At the outbreak of the War Between the States, Joseph Bates was appointed a colonel in the Confederate Army. He raised a regiment that later became, after several reorganizations, the Thirteenth (Bates') Texas Volunteers, known at various times as the Fourth (Bates') Regiment Texas Volunteers, Bates' Battalion Texas Volunteers, and the Brazoria County Reiment. He was placed in command of the coast defenses between Galveston and Matagorda Island and established headquarters at Velasco. From May to September 1863 he and his regiment served in Louisiana under Major General Richard Taylor. For a time Bates was commander of the post at Brashear City.
     According to the June 1862 Regimental Return for Bates' Regiment, George was home sick in Brazoria County and had not yet been able to join the unit. He finally mustered in at Velasco on 30 July 1862, some six weeks after he had enrolled, and appears thereafter on the rolls of Captain William Saunder's Cavalry Company A through February 1863.
     George does not appear in Confederate records so far found for the remainder of the year 1863. This in no way indicates an absence from duty. Captain Saunders, his company commander, is found several times, but it appears there are no extant muster rolls for Company A for that period. The probable explanation is that his company was in Louisiana for much of the year.
     On 4 May 1863, Lieutenant General E. Kirby Smith ordered Colonel Bates' regiment to march to Neblett's Bluff, Louisiana, about ten miles north of Orange, Texas. A bustling river port on the old east channel of the Sabine River that was important to the commerce of both Louisiana and Texas, Neblett's Bluff offered a convenient shipping point for cotton and lumber, as well as a crossing point for the road from Houston to Opelousas. In April and early May, 1863, Confederates believed the Union army would continue westward across Southwest Louisiana and invade Texas by way of Neblett's Bluff, thus reinforcements from Texas were ordered there. On 16 May, Colonel Bates responded to his marching orders:
Houston, May 16

th

, 1863     

Captain,

          Having received marching arders to Louisiana which I am preparing as rapidly as possible to obey, a sense of duty to the Public Service, and to the section of country where my Regimet has been stationed since its first organization, and with which my own interests are strongly identified, constrained me, in the mean time, to entreat the consideration of the Major General commanding of the importance of that locality ___ the mouth of the Brazos River ___ and the special organization of my command for its service and defence. Three companies of Infantry, four of Cavalry and three of Artillary _ and the men acclimated to the coast, which any men from the interior have yet to become, through the experience of its peculiar diseases. How far these facts should exert influence, or whether he possesses discretion on the subject, he will not know.

          Two of my companies, Capt Ballows' and Capt Jones' have been detached from my Regiment and I am required to march to Louisiana with the remaining eight companies, three of Infantry, four of Cavalry and one of Artillery[.] I most respectfully request that this part of the order may be reconsidered, and my command preserved in tact. Capt Ballows' is one of my best drilled infantry companies - also trained to artillery service, but Col Gould's men, I understand, have been without arms of any kind, and can readily be put into artillery as far as necessary. Some of my best gunners could be exchanged with Col. Gould.

          Capt Jones' company has just been dismounted from Cavalry service and is without any practice in Artillery. One of Col. Goulds companies could therefore take its place.

          I most respectfully request that I may have my entire Regiment.

          Remembering that I have already turned over to other commands as many as nine drilled companies, - five of Cavalry to Lieut. Col. Brown, and four of Infantry to Col. J.W. Spaight, I can not but hope that none of my present Regiment shall be detached. And I most respectfully but urgently appeal to the commanding General on the subject.

Very respectfully _     

J. Bates, Col          

To

Capt. E.P. Turner

               A.A.G.An answer to Bates' request has not been found, but his regiment did go to Louisiana, probably to Neblett's Bluff, but that is not certain. Several days after Colonel Bates wrote the letter, it became obvious that the Union army had turned east to attack Port Hudson on the Mississippi. Thereafter, a force of 8,000 was approved to assemble at or near Neblett's Bluff to defend Texas in the event Port Hudson fell. Whether that force included Bates' regiment is not known. The only other clue to the whereabouts of Company A in Louisiana is a September 1863 regimental return that notes Captain Saunders was on detached service since 11 July at Bayou Rouge. That could refer to the community in St. Landry Parish, or to the nearby stream once plyed by steamboats.

     Most interesting in Colonel Bates' letter is that he had such a difficult time keeping his regiment intact. His problems continued. On 7 September 1863, he wrote from his headquarters at Velasco that he had recently returned from Louisiana, but "The four cavalry comp's "A", "I", "J", & "K", of this Regm't are absent in Louisiana." On the same day by Special Orders, the four cavalry companies were transferred to Brown's Battalion:

Head Quarters Dist of Texas, New Mexico &

.~

Houston Texas Novbr. 9

th

1863.     

Special Orders|

     N

o

305     |

XII                         In accordance with instructions from the Head Quarters of the Trans Miss Dept. directing mixed organizations to be made uniform the (4) four companies of Bates Regt. now under command of Major Roundtree, are hereby transferred to and will constitute a part of Lt. Col. Browns Battalion, thus raising this Battalion to a Regiment of ten companies of Cavalry.

By Command of                                        

Maj Genl. Magruder                         

(Signed)                         Col. P. Turner               

A.A. Genl     Under this order, Company A of Bates' Regiment became Company H of Brown's Regiment, 35th Texas Cavalry. Captain Saunders' remained company commander.

     Colonel Reuben R. Brown

was elected lieutenant colonel of Colonel Bate's Thirteenth Texas Infantry and saw service on the Texas coast between Galveston and Matagorda Island, primarily near Brown's home at the mouth of the Brazos. In 1862 he was given command of an independent cavalry battalion, the Twelfth, made up of companies from Bates' regiment. Toward the end of 1863 Brown was promoted to colonel and organized and commanded the Thirty-fifth Texas Cavalry, a consolidation of his own and Major Lee C. Rountree's battalions. This regiment served in Texas until it was transferred to Louisiana in the spring of 1864 and saw action in Brigadier General Henry E. McCulloch's brigade of Walker's Texas Division during the Red River Campaign. Brown's was one of two regiments named the Thirty-fifth Texas Cavalry, the other being that of Colonel James B. Likens.

6

     In December 1863, Brown's Regiment had returned to Texas. George's company was camped on Cedar Bayou in December and remained there until at least until 4 January 1864. Back in Velasco, George appears on the January-February muster roll of Company H, but it is noted that he was absent, having been detailed for duty at General H.P. Bee's headquarters since 27 February 1864. In the winter of 1863-64, General Hamilton P. Bee

commanded ten thousand men, a corps of observation on the coast from the Brazos to Matagorda Bay, and on 11 March 1864, left for Louisiana with seven regiments of cavalry to participate in the Red River Campaign.

     George was home on leave when on 22 March 1864 his brother

Gerard

was killed by a Confederate soldier who was stealing hogs from the plantation. His brother

Mordello

was away in the Army and George had to assume all responsibilities of the Munson family in connection to

Gerard

's death. George and friends went to San Antonio a few days after the murder to alert the regiments there about the escape of the soldier named Pankey who was accused of killing Gerard, and it is noted on the March 1864 Regimental Return of Company H that he was "detailed service to go in pursuit of deserter." The soldier was almost certainly Joseph Pankey, a private in Comany F, Brown's Regiment Texas Cavalry. On the March 1864 Regimental Return it is noted that he deserted from Camp Wharton on 26 March 1864, just four days after

Gerard

was killed. Camp Wharton was at or near Jones Creek, in close proximity to Oakland. George was probably on this mission until sometime in June. That month, Captain Saunders, in a letter requesting a leave of absence, wrote, "There is one Lieutenant present for duty in the company - one sent in pursuit of the murderer of

G.B. Munson

, by order of Col J. Bates ..." Because George and the lieutenant were both pursuing Pankey, it is a reasonable assumption that if one hadn't returned, neither had the other. On his return trip, George went to San Marcos to inform his mother of the tragedy.

7

Sarah

Munson

wrote in her diary on 18 October 1864, "George is here. He came over yesterday with those men who killed Pankey." Some believe that George and some friends issued their own justice.

8

     Family tradition is probably accurate in that George did not return to service after

Gerard

's death, though he was not immediately released from duty. On the June 1864 Regimental Return of Company F, Bates' Texas Volunteers, his old regiment, different company, it is noted that he had transferred from Company H, Brown's Regiment. Then, in a letter to Colonel Bates dated 21 August 1864,

Mordello

requested that George be detailed to look after Oakland Plantation, and thanked him for his kindness in allowing George's temporary presence thereupon:

At Home Aug 21

st

1864     

          Est" Col,

                         The Plantation known as oakland place, upon which my Brother

G.B. Munson

resided at the time he was murdered, and which is still the home of his widdow; and four infant children, is without any one to control, or protect it. Surrounded by large plantations on the principal highway leading from the coast to the interior; Contiguous to your largest encampment of troops; Scarcely a day, or night passes by, without finding strangers upon the premises, principally ssoldiers, some of whom recognize no right, or law; /either human or Divine, thieves, and Scoundrels from their birth they seek women, and children, defenceless, to rob, to outrage them. I respt' ask that My Brother Geo' P Munson, a private in Battery may be detailed permanently, or for as great a length of time as is admissable to take charge of, and controll the aforsaid Plantation__; The Governments interest in the ungathered, and growing crops of the place in the absence of other considerations, would authorize the detail asked for; You know Colonel from the location of this place, that it would be next to impossible for a Lady, without male protection to remain upon it; Soldiers have been, are being detailed to oversee plantations, therefore in the fullest confidence of your fair action upon this application I make it.

     My Brothers temporary presence upon the place, the result of your kindness, I feel grateful to you for.

Mrs. Munson

will also apply for the detail herein asked for, and if it is necessary that her application should be forwarded to Dept' Hd'Quarters, I ask your assistance in the premises__ Gen Walker is well known to me, and in him we will have a General, careful of his troops, and just to the citizens.

          To                                                  Respt" Your Friend

     Col J. Bates                                             MS Munson

     Comand' 2

nd

Dist

     Camp Burnard

Annie

Munson

,

Gerard

's widow, followed up with a letter dated 24 August 1864:

Oakland August 23

d.

1864     

          Col. Bates

                         Sir, I feel grateful to you for many favors already received and regret having farther to solicit your friendly interposition. But there are other persons not so unprotected and exposed as myself to whom details are furnished. There are other plantations of less importance and utility to the government than this which enjoy the advantage of having managers detached from the army and I think it not nonreasonable that I should respectfuly ask that a similar favor be granted to myself. You are aware that I am located but a short distance from a fortified camp that there are many troops in this vicinity and that they pass and visit my house almost daily. There are many negroes in this immediate vicinity from the depredations of whom I have no means of protecting myself. In addition to my own private interests, I believe that of the state and the country at large will be enhanced by granting my request. There are over twenty hands on this place. Corn and Sugar are exclusively cultivated. Sugar making is now near at hand, many preparations are indispensable, and you know it is entirely out of my power either to prepare for or superintent the taking off of a crop. It is true my brother George Munson has been permitted to spend much of his time at home; but you are aware that his presence here is entirely dependent upon the position of his company and the kindness of his officers for if his company is ordered away, of course he will be expected to go with it, And being a sugar planter yourself I need not tell you what would be the consequences of his leaving home now, when his presence is more essential than at any other season of this year. In consideration of the above facts, and in consequences of his relationship to myself and children and his interests being intimately identified with my own, I respectfuly ask that George P. Munson be detailed to take charge of, & superintend this plantation.

Very respectfuly,               

A. E. Munson     

The request was approved for at least 60 days, as it is noted on the October 1864 Regimental Return that George had "service for 60 days as overseer since 30 Sep 1864." That is the last time he appears in the Confederate records.

     Thus George managed Oakland Plantation after

Gerard

's death. Two years later he married

Agnes Davis

and they lived at Oakland with

Annie

and her four children.

Annie

died a year later, and the children were taken into the home of

Mordello

and

Sarah Munson

. George inherited Oakland and the entire 770 acres are still owned by his descendants. (In 1847,

James Caldwell

enlarged the plantation by the purchase of about 216 acres from his neighbor, the widow of Andrew Westall).

9

     In 1869, George leased Oakland Plantation for five years and he,

Agnes

and

Claud

moved to a house "on the Beach." He wrote to

Milam Caldwell

that they had a "pleasant little home" and that the old home was badly in need of repairs. This was soon after the close of the War Between the States, and times were hard. A year or two later, George and

Agnes

were living at Austin's Bayou near Liverpool.

Agnes

taught school, and their son

George

was born there. Early in 1875, they moved to a new home at Bailey's Prairie.

10

On 1 November 1877,

Mordello

deeded to George a 100 acre tract of land in the southwest corner of the Cornelius Smith Survey. Whether it was a gift or part of the division of the estate is not known.

11

     George and

Agnes

had two more children born at Bailey's Prairie. When George died,

Agnes

was only 32 years old. She remarried and moved to Columbia. Upon her death several years later, the orphaned children were given a home with

Mordello

and

Sarah.8

Additional Data

Mordello S. Munson petitioned the Probate Court of Brazoria County, Texas, on 27 March 1848 to have the estates of Henry W. Munson and William B. Munson partitioned. Henry William died intestate in 1833, "possessed of considerable property and leaving a widow, Ann B., who has since intermarried with James P. Caldwell, and four children, viz. William B., George and Gerrard and your petitioner." Henry William's estate had never been divided. This action was probably prompted by the untimely death of William Benjamin only nine days earlier, who died "intestate and without issue, possessed of some property, real and personal..." The petition also asks to have guardians appointed to "defend the interests of said minors in this suit..." This included the two children of James and Ann B. Caldwell Henry B. Andrews was appointed guardian "as litera." He and Ann B. and James P. Caldwell replied to the petition, all joining "in the prayer for the partition of said estate," Ann stating that she was entitled to half of the community property.

On 21 September 1848, James F. Perry, Joseph M. McCormick and William J. Bryan met at the house of James P. Caldwell and proceeded to "appraise and partition the Estate of Henry W Munson and William B Munson between Ann B Caldwell and her children..." The estate was appraised at $26,825.00, including 9,699 acres of land as follows:

          554 acres at Oakland Plantation
          2,479 acres bought from William J. Bryan at $3.00 per acre
          2,222 acres on the Bernard in the Gray & Moore League
          4,444 acres on the Navidad.

The estate was divided into 64 shares for purposes of partition. Those receiving shares were Ann B. Caldwell (36), Mordella Munson (9), Gerrard Munson (9), George Munson (9), Robert and Mary Caldwell (1).12 Slaves belonging to the estate were not partitioned off until about 1850. George's part in the division was Henderson, Malinda, Burrell, each valued at $1,000, and three children valued at $600, for a total value of $3,600. The partition order further provided that at the death of his mother Ann B. Caldwell, he would receive [unintelligible], and at the death of his stepfather James P. Caldwell, he would receive "negro man Arthur."13

George P. Munson appeared on the 1 June 1850 Federal Census of Brazoria County, Texas, in the household of his mother Ann B. Cauldwell, and stepfather James P. Caldwell.14

G.P. Munson appeared on the 1 June 1860 Federal Census of Columbia, Brazoria County, Texas, in the household of Girard B. Munson, his brother.15

Gerard B. Munson had made his will on 2 August 1861 in Brazoria County, Texas. Mordello S. and George P. Munson inherited the entire estate, except for specific bequests to the children, to be held in trust for the children. Profits from the estate were to be used for the education and support of the children, and to provide a good support for Gerard's widow so long as she remained unmarried. Mordello and George were named executors of the will and guardians of the minor children who were to share equally in the estate when they became of age or married with the consent of the executors. The entire estate was willed to Mordello and George in the event that none of the children became of age or married.16