Cyril Yates1
b. 5 May 1906, d. 30 November 1999
Family Background: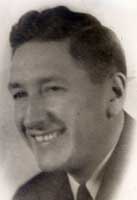 Cy Yates
Cyril
Yates
was born on 5 May 1906 in
England
.
1
He married
Adelaide
Kennedy
, daughter of
Walter
Kennedy
and
Sarah Kimbrough
Munson
, in
Angleton, Brazoria County, Texas
.
2
He died on 30 November 1999 in
Brazoria County, Texas
, at age 93.
1
He was buried in
Angleton Cemetery, Angleton, Brazoria County, Texas
.
3

     Writer's note: Cousins Cy and Addie lived just across the trap (small pasture set off from a larger one) from us just south of Angleton. I was allowed to walk across by myself, so I visited often. In the spring I picked pepper grass on the way to give to Cousin Addie's canary, and I liked to play with Cousin Cy's bird dog Dinah. Cousin Addie taught sixth grade and Cousin Cy worked for Cousin
Bell
Giesecke
at Giesecke's Department Store in Angleton. He came from England in the 1920s and first worked on a dairy farm in New Jersey. His move to Texas was not by design. He had accompanied a train shipment of dairy cattle to Sherman, Texas, in the early thirties. When he arrived, he got word from his boss that the business was bankrupt. He offered to pay his way back to New Jersey, but Cousin Cy decided to stay in Texas. I never did learn how he ended up in Brazoria County. He retained a rather thick British accent his entire life. Cousin Addie's death was entirely unexpected. She simply didn't wake up one morning. Cousin Cy first called my mother (
Ruth Anna
Munson
) who ran over and confirmed she was gone. After Cousin Addie's death, he became particularly close to Cousin
Della
Hanly
who predeceased him, and Della's brother
John H.
Caldwell
and his family. He moved to
Rosharon
and the Caldwells cared for him until his death in 1999.
4