Joseph Waddy Munson II
b. 3 October 1896, d. 11 May 1951
Joseph Waddy Munson II|b. 3 Oct 1896\nd. 11 May 1951|p146.htm|Henry William Munson III|b. 16 Aug 1851\nd. 1 Jul 1924|p25.htm|Sarah Kate Cahill|b. c 1876\nd. 1899|p2818.htm|Mordello S. Munson|b. 25 Apr 1825\nd. 13 Oct 1903|p113.htm|Sarah K. Armour|b. 3 Sep 1831\nd. 31 Jan 1887|p114.htm|||||||
1st cousin 1 time removed of
George Poindexter
Munson
Sr.
2nd cousin 1 time removed of
Laura Jane
Munson
.
Family Background: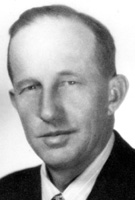 Waddy Munson II
Joseph Waddy
Munson
II
was born on 3 October 1896 at the
Van Place, Brazoria County, Texas
.
1,2,3
He was the son of
Henry William
Munson
III
and
Sarah Kate
Cahill
. He married
Myrtle Seymour
Bryan
on 22 August 1917 in
Brazoria County, Texas
.
4
He died on 11 May 1951 in
Houston, Harris County, Texas
, at age 54.
5
He was buried in
Angleton Cemetery, Angleton, Brazoria County, Texas
.
3

     Waddy attended school in Angleton and graduated from from
Angleton High School
. Afterward, he attended Houston Business College. He married Myrtle
Bryan
when he was only nineteen, she eighteen, and the young couple first lived in Angleton in a home Waddy's father had previously bought from his brother
Bascom
. They sold their home in or before 1920 and moved to Port Arthur, Jefferson County, Texas, where he worked for the Texas Company (Texaco). In or before 1925, they moved to Houston and he worked for the Humble Oil Company (Exxon). They moved back to Angleton in 1932 when Waddy acquired the Humble Oil distributorship there. Their first home had since burned, and they re-purchased the lot where they built a new home. They were living there when in 1951, Waddy died of a cerebral hemorrhage in a Houston hospital. Eight years previous, their only son,
Bryan
, was reported missing in action in the Asian Pacific. Williamson quotes
Jennie Kate
's comments on her father's death in his manuscript: "I truly believe that he died of a broken heart, for he never accepted my brother's death. His grief was so great that until the day he died he never gave up hope that Bryan would be found." Myrtle continued to live in the Angleton home until 1979 when she moved to Houston to be near her daughter.
     Writer's note: I was "crazy" about Cou'in Waddy (we never pronounced the "s" in cousin). He was one of those people who probably everyone, but particularly children, love. I went often with Cuz (
George
Kennedy
) when he helped Waddy work cattle, and quite often, Waddy helped George work his own when I was along. He and George were only a year apart in age and were particularly close. George always said they were raised together, and I have a studio photograph of three of the Kennedy children and Waddy taken together as if they were one family.
     In about 1948, the two families, George and
Hattie
Kennedy
and Waddy and Myrtle
Munson
, went together and bought a summer cabin in Wimberley, Hays County, Texas, on the Blanco River. It was named
Camp Cardinal
. One of the first things I remember about going there was Cou'in Waddy tying to a cypress tree branch a pair of his wool long johns that we kids used to swing out over the river. We called it a "boom diddy," and would scream "boom diddy, boom diddy, boom diddy, BOOM," the last "boom" coming as we hit the water. My two brothers and I, and Waddy's three grandchildren who were about our ages, had many great adventures at
Camp Cardinal
.
     I was a baby when Bryan was lost in the war and never realized the grief Cou'in Waddy was suffering. He was just so much fun, and I don't remember him as a sad person. That is not to say I don't believe he was grieving. It's just not how I remember him. I was eight years old when he died, and I remember exactly where I was and how I reacted when my parents told me. It was the first time I had ever heard the phrase "passed away" and I thought at first they meant he had fainted. It was as if a terrible shock ran through me when they explained that he had died. It was made an even worse tragedy by the fact that a new wonder drug prescribed for, I think, the flu, probably caused his death. Many years after the fact, I saw a feature on television about the many deaths attributable to the drug before it was pulled from the market. I can't remember the name now, but I think it was one of the mycin drugs.
J. Waddy Munson appeared on the 15 April 1910 Federal Census of
Brazoria County, Texas
, in the household of his father
Henry
Munson
.
6

Joseph Waddy Munson registered for the World War I draft 5 June 1918 at
Angleton, Brazoria County, Texas
. Described as being of medium height and slender build with gray eyes and brown hair, he was attending to the Munson enterprise near Angleton. He listed his father
H.W.
Munson
as his nearest relative, although he was married.
2
Joseph W. and
Myrtle B.
Munson
appeared on the 1 April 1930 Federal Census of
Houston, Harris County, Texas
, enumerated 7 April 1930. Their children
Jennie K.
and
Bryan C.
were listed as living with them.
7