Henry William Munson III
b. 16 August 1851, d. 1 July 1924
Henry William Munson III|b. 16 Aug 1851\nd. 1 Jul 1924|p25.htm|Mordello Stephen Munson|b. 25 Apr 1825\nd. 13 Oct 1903|p113.htm|Sarah Kimbrough Armour|b. 3 Sep 1831\nd. 31 Jan 1887|p114.htm|Henry W. Munson|b. 15 Jan 1793\nd. 6 Oct 1833|p2528.htm|Ann B. Pearce|b. 17 Apr 1800\nd. 6 Sep 1865|p2532.htm|Solomon H. Armour|b. s 1800\nd. 21 Dec 1833|p11510.htm|Sarah A. H. Waddy|b. 1811\nd. 5 May 1864|p11511.htm|
1st cousin of
George Poindexter
Munson
Sr.
1st cousin 2 times removed of
Laura Jane
Munson
.
Family Background: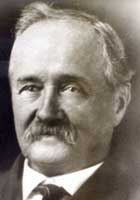 Henry William Munson III
Henry William
Munson
III
was born on 16 August 1851 at
Oakland Plantation, Gulf Prairie, Brazoria County, Texas
.
2,1
He was the son of
Mordello Stephen
Munson
and
Sarah Kimbrough
Armour
.
1
He and
Sarah Kate
Cahill
obtained a marriage license on 17 December 1895 in
Brazoria County, Texas
.
3
He married
Kate
on 18 December 1895 in
Chenango, Brazoria County
.
4
He died on 1 July 1924 in
Angleton, Brazoria County
, at age 72.
1,4

He was buried on 1 July 1924 in
Angleton Cemetery
.
5,1

     Henry was referred to as "Son" in his mother's diary and letters, and his nieces and nephews always called him "Uncle." He grew up at
Ridgely Plantation
and received his early education there and in Houston public schools. Thereafter, he attended
Texas Military Institute
in Austin that had moved from Bastrop in 1870. He then took military training at the newly opened Agricultural and Mechanical College of Texas (now
Texas A&M University
) near Bryan.
     After finishing school, he returned home to
Bailey's Prairie
and lived with his parents, helping his father operate the plantation. He was also overseer of his father's sugar plantation and mill at
Tuxpan, Veracruz, Mexico
, and traveled there often by ship. This was land bought by his father
Mordello
and others in anticipation of moving there if conditions in Brazoria County became intolerable following the War.
     In the early 1870's he became captain of the Prairie Rangers of Brazoria County. This was an organization that operated under the authority of Governor O.M. Roberts "to control a lawless element that was present in the county at that time. A criminal class of Negroes made cattle stealing a regular practice, defying all law, and boasting of their raids. The Prairie Rangers put fear into their hearts and forced respect for the law" (from his obituary as quoted in Williamson's manuscript).
     According to his nieces, he was "quite a ladies' man" though he did not marry until he was 45 years of age. Plans to marry in 1882 fell through when he was jilted by a "heartless flirt." Soon afterward, he moved in with brother
George
and family at the "
Van Place
" north of Bailey's Prairie. He and George became lifelong partners in cattle ranching, rice farming, and other endeavors, doing business as "H.W. and G.C. Munson."
     Henry and
George
were the first of
Mordello
and
Sarah
's children to move away from home.
Mary (Kennedy)
Giesecke
recollected:
With fondest [memories] I remember the "Vann Place", situated near the banks of Oyster Creek. In this home lived my mother's brothers, Henry &

George

. The latter's family consisted of our dear

Aunt

Hannah

Adriance

& children,

Lydia

,

Sarah

,

Adriance

,

Henry

,

Mordello

&

Ruth

. Henry later brought his wife

Kate

Cahill

here & their son

Waddy

was born in "Uncle's room", later George moved to Angleton so the children could be in school. Henry remained till 1898 [actually 1899] when his wife died at a son's birth, then he & little Waddy lived with different relatives.
     He and
Kate
Cahill
had three sons, two of whom died at birth or soon after. The last was born in 1899 at the two-story Angleton home of
George C.
and
Hannah Munson
during a great flood, at which time
Kate
died in childbirth and the baby died a few days later. Henry never remarried. He and
Waddy
moved from the "Van Place" to Angleton, and there he continued to engage in various businesses with
George.
Additional Data
Henry W. Munson appeared on the 1 June 1860 Federal Census of Columbia, Brazoria County, Texas, in the household of his parents, M.S. and Sarah K. Munson.6



Henry Munson appeared on the 1 June 1870 Federal Census of Brazoria, Brazoria County, Texas, in the household of his parents, Mordello and Sarah Munson.7



H.W. Munson appeared on the 1 June 1880 Federal Census of Brazoria County, Texas, in the household of his parents, M.S. and S.K. Munson.8



Perhaps as a favor to his father, Henry applied for and was appointed guardian of the estate of George P. Munson, Mordella Munson and Sarah K. Munson, minors, on 18 February 1884 at Brazoria County, Texas, and a partial inventory was returned the following day. In a written statement, he said that because the children's estate was undivided and in control of Colonel M.S. Munson who would preserve it for them, no further legal action was necessary.9 George, Mordella, and Sarah were the orphaned children of George P. and Agnes (Davis) Munson, and therefore, Henry's first cousins. After George died, and before Agnes remarried, she wrote in her diary that he often brought her firewood as a kindness. When Agnes died a few years later, Mordello and Sarah took the young children into their home.

Henry William Munson III patented 510 acres of school land in Brazoria County, Texas, on 19 January 1888.10

Henry Munson appeared on the 15 April 1910 Federal Census of Brazoria County, Texas, enumerated 19 April 1910. His son J. Waddy was listed as living with him.11



H.W. Munson was listed as the next of kin on the World War I draft card of his son Joseph Waddy Munson 5 June 1918 at Angleton, Brazoria County, Texas.12

H.W. appeared on the 1 January 1920 Federal Census of Angleton, Brazoria County, Texas, enumerated 15 February 1920.13