Reverend William Thomas
b. 1678, d. 6 October 1757
4th great-grandfather of
Louise
Underwood
.
6th great-grandfather of
Laura Jane
Munson
.
Family Background:
Appears on charts: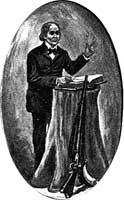 Reverend William Thomas
Reverend
William
Thomas
was born in 1678 in
Llanwenarth, Monmouthshire, Wales
.
1,2,3
He married
Ann
Griffith
in
Wales
.
2,4
He died on 6 October 1757 in
Hilltown, Bucks County, Pennsylvania
.
5,6,1
His will was proved on 13 October 1757 in
Bucks County
.
7
He was buried in
Lower Hilltown Baptist Church Cemetery
.
1

     Reverend William Thomas lived on a farm called Bhassaw of Mwyn in the parish of
Bedwelldy or Bedwellsly
(probably Bedwellty, a town or parish in Monmouthshire), some distance from the place of his birth.
8
He was described as "able-bodied, a short, thickset, chunky man, of dark hair, eyes and complexion, rather bony and spare than fleshy, and sharp spoken or sententious in his speech."
6
He was reared in the tenets of the Baptist faith and became a member of Blanew, a Baptist church in Glamorganshire. From the time he was a young man, he spoke at religious meetings which were oftentimes held at his home.
8
Throughout his adult life, William administered to the spiritual needs of his neighbors, and at some point became a licensed Baptist minister. "As a preacher he possessed an easy address, possessed a strong, discriminating and vigorous mind and had a fair education in both Welsh and English. In Wales he was accustomed to preach in either language alternately, or as his hearers demanded."
6
     His parents were possessed of considerable means, and upon their death (before 1710) William sold the patrimonial estate.
2
In January 1711/12, William transported his household goods, his wife, and infant son Thomas to
Bristol, Bristol, England
, where he bought passage on a ship bound for Philadelphia.
2
Their goods, clothing and most of their cash was put on board, but having been told the ship would not sail for several days, William took his family to the country to wait. Upon their return a day before the scheduled departure date, they were horrified to see the ship had sailed without them. It was still in sight, but an attempt to overtake her in a small boat failed. On credit, William secured passage on the next ship bound for Philadelphia.
9
He and his family arrived in
Philadelphia, Philadelphia County
, on 14 February 1712. There William found the ship on which their belongings had been transported. However, the master had absconded with everything he could carry and sold the rest. They were mortified to see people on the streets wearing their clothes that had been purchased from the dishonest master. Unable to recover anything, they were without money or any worldly possessions.
10
Fortunately, William had learned the useful trade of cedar cooper while still in Wales. He met with a Philadelphia family by the name of Watkins, who were friends from the old country, and borrowed enough money to pay for the passage, cover necessary expenses, and to buy the necessary tools to follow his trade. He found in Philadelphia a brisk demand for his wares and sold all he could make.
11,2
     In the latter part of 1713, William moved with his wife and son across the Schuylkill and settled in
Radnor township, Chester County (now Delaware County)
. While living in Radnor he continued in his trade, hauling his cedar ware into Philadelphia to sell. In five year's time, "by industry and shrewd business tact," he had saved enough money to pay his debts and buy land.
2,12
     In February 1718, William bought 440 acres of land in
Hilltown, Bucks County, Pennsylvania
, from Jeremiah Langhorne. It was in a beautiful and fertile valley, but almost wholly wilderness. He paid 33 pounds for land "beginning in the line of Philadelphia county at a corner of Samuel Cart's land; thence northeast 240 perches; thence southeast 311 perches, and thence southwest by Samuel Cart's land 240 perches to beginning." It was a mile wide along the county line, and the tract had square corners.
13,2
William built their first home near a soft water spring just a few hundred yards from the county line. It was soon replaced with a one and a half story stone house built in the meadow beside the spring. It stood until 1812.
14
From James Logan in 1723, William bought two more tracts comprising 300 acres and 223 acres that adjoined each other. He paid ninety pounds for this land that was located a mile north of the 1718 purchase.
15
He bought from Rowland Ellis in 1725, two more tracts comprising 100 acres and 156 acres.
16
In 1728, William bought 50 acres from Benjamin Phillips. In all, he made six purchases comprising 1268 acres in Hilltown township at the cost of £361. He made many improvements, and on these lands he built seven more stone houses, one for each of his children.
16
     William was a member of
Montgomery Baptist Church, Philadelphia (now Montgomery) County
, from the time of its establishment in 1719, and was an assistant to Reverend Benjamin Griffith in the ministry. There being no church or meeting house in Hilltown at the time, meeting was usually in the home of a local member.
17
In 1737, Reverend William Thomas laid off four acres of his land in
Hilltown
on which he built a meeting house at his own expense. He furnished it with seats and a pulpit he had fashioned out of a very large hollow poplar tree. Hostile Indians kept Hilltown residents in fear much of the time and "in times of the most threatening danger, [Reverend Thomas] carried with him his arms of defence, even to the base of his pulpit, where before he ascended, he deposited his gun ammunition and sword." Reverend Thomas preached from his Hilltown pulpit for the next twenty years, or until his death in 1757, at which time his son, John, took over his duties. The Lower Hilltown Baptist Church, as it came to be known, remained a branch of the Montgomery church until 1781 when Hilltown was constituted as a separate church.
17,18

     There is an interesting anecdote concerning Reverend William Thomas' ability to foretell the future:
"Elder Thomas showed this gift in foretelling accurately the future of his family. Like Jacob of old, his children's future passed before his mind's eye in vision; their personal behavior, their fortunes and their end. Once when his daughter Ann Lay very sick with fever, whilst yet a maiden, her father entered her room and told her that she would recover from her present illness. That later in life, Stephen Rowland would seek her in marriage, that he would marry her, but that a year after she would die in childbirth. This proved exactly true, though then she had no thought of her future husband. Of his sons he said that all but one would prove good, true Christian men, and one would become a preacher. One would go astray and do no good, and then come to his end prematurely by violence. All of this proved true, and William, Jr., did come to a violent end, in 1764."6
William Thomas made his will on 11 December 1753 in
Hilltown, Bucks County, Pennsylvania
. Mentioned in the will were
Gwenllian
Morris
,
Cadwalader
Morris
,
Morris
Morris
,
Ephraim
Thomas
,
Manasse
Thomas
,
John
Thomas
,
Thomas
Thomas
,
Anna
Thomas
and
William
Thomas
.
7