Margaret Ruth Munson
b. 28 September 1931
Margaret Ruth Munson|b. 28 Sep 1931|p34.htm|George Poindexter Munson Jr.|b. 13 Nov 1907\nd. 1 Jan 2000|p26.htm|Eulalia Beatrice German|b. 18 Apr 1903\nd. 3 Feb 1971|p33.htm|George P. Munson Sr.|b. 12 Aug 1873\nd. 7 Jan 1944|p18.htm|Louise Underwood|b. 8 Jul 1880\nd. 5 Sep 1946|p19.htm|||||||
Granddaughter of
George Poindexter
Munson
Sr.
Granddaughter of
Louise
Underwood
.
1st cousin of
Laura Jane
Munson
.
Family Background: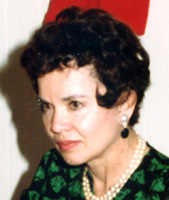 Ruth Munson
Margaret Ruth
Munson
was born on 28 September 1931.
1
She is the daughter of
George Poindexter
Munson
Jr.
and
Eulalia Beatrice
German
. She married first
Hugh
Mangum
circa 1960 in
Houston, Harris County, Texas
.
2
She and
Hugh
were divorced. She married second
Drew
Blackmore
on 26 December 1976 in
Fort Bend County, Texas
.
3
     Ruth lived most of her first few years with her Munson grandparents at
Bailey's Prairie
. She was a sickly baby, and her mother found it impossible to care for her because of a difficult second pregnancy and recovery following the birth of Ruth's sister
Sara
. Doctors feared Ruth would never be normal, but she thrived under the care of her grandmother
Louise
. Ruth's uncle,
Joe
Munson
, remembered the trauma of returning Ruth to her parents' home in
Caldwell
. She was about three when
Joe
and
Louise
drove her, and he never forgot Ruth's screams for her "little grandmamma" as they pulled away.
Louise
said, "Keep on driving,
Joe
; just keep on driving."
     Sometime after September 1941, at which time Ruth's father was called to active duty,
Eula Bee
and the girls moved to
East Columbia
to live with George's aunt,
Laura
Underwood
. Ruth and
Sara
attended West Columbia schools and graduated from
West Columbia High School
in the late 1940s.
     Ruth's artistic abilities surfaced early.
Ruth Anna
Munson
remembered her, as a young child, drawing stick figures in perfectly accurate motion. However, her first love was perhaps ballet, and she studied at
Sadler's Wells, London
, and afterward was a member of the New York Ballet Company and the Houston Ballet Company. She taught ballet classes in Angleton for a period of time, the writer being an inept pupil for several years.
     Ruth turned more and more to fine art, and is a prominent figure in that community. Two of her portraits are hanging in the Smithsonian Institute's National Portrait Gallery in Washington, D.C., and another in the National Gallery for Women in the Arts in Washington, D.C. She has had eight one-artist exhibits, illustrated a book and painted President Bush's 2004 White House Holiday Invitation Card, and Governor Rick Perry's 2005 Holiday Card. In 1998 she got raves for her fabulous life-size, hand-painted, cutout figure of Nina Ananiashvili, prima ballerina with Russia's Bolshoi Ballet, who was in Houston to dance the lead role in
The Snow Maiden
. The figure adorned the dessert buffet table at the opening-night party. She has painted a number of prominent Texans including Nolan Ryan, Bob Bullock, and Academy Award winner Horton Foote. She currently lives in Houston and is (or was) a board member of the Houston Ballet. Ruth has no children.
     Visit
Ruth Munson Portraits
to read more about Ruth's accomplishments and view her paintings.
Citations
[S32] Interview with Ruth Anna (Horn) Munson (Mrs. Joe U. Munson; Angleton, Texas), by Laura Munson Cooper. Transcript held in 2003 by Cooper (1804 Holm Oak St.; Arlington, TX 76012-5608).
[S9] Personal recollection of the writer, Laura M. Cooper (1804 Holm Oak St., Arlington, Texas).
[S14] Ancestry.com, Texas Marriage Collection, 1814-1909 and 1966-2002, [database online], (Provo, UT: The Generations Network, Inc., 2005), file no. 143038, he 79, she 45.