Louisa Amanda Barnes Hanks
b. 3 June 1847, d. 2 February 1912
Louisa Amanda Barnes Hanks|b. 3 Jun 1847\nd. 2 Feb 1912|p67.htm|John Armstrong Hanks|b. 19 Apr 1812\nd. 27 Apr 1889|p87.htm|Euphemia Matthias Morris|b. 10 May 1822\nd. 29 Mar 1850|p88.htm|John Hanks|b. 1770\nd. 29 Jun 1839|p99.htm|Jane D. Armstrong|b. bt 1768 - 1769\nd. 22 Nov 1851|p100.htm|Enos Morris|b. c 10 Apr 1773\nd. 18 Feb 1832|p1929.htm|Elizabeth (—?—) (Hough-Morris)|b. c 1785\nd. 25 Aug 1824|p1930.htm|
Mother of
Louise
Underwood
.
Great-grandmother of
Laura Jane
Munson
.
Family Background:
Appears on charts: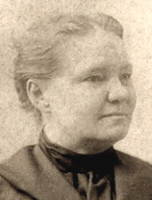 Lou Hanks
Louisa Amanda Barnes
Hanks
was born on 3 June 1847 in
Pittsboro, Chatham County, North Carolina
.
1
She was the daughter of
John Armstrong
Hanks
and
Euphemia Matthias
Morris
. She married
Joseph Patterson
Underwood
, son of
Ammon
Underwood
and
Rachel Jane
Carson
, on 23 July 1867 in the
Underwood home, Columbia, Brazoria County, Texas
.
2,1

She died of "appoplexy" on 2 February 1912 at her home in
Columbia
at age 64.
1
She was buried in
Old Columbia Cemetery, West Columbia
.
1

     Louisa was named for two aunts,
Louisa
and
Amanda
Morris
. Lou's granddaughter,
Virginia
Munson
McGee
, says that it appears she reversed her given names at some point because in the Hanks Family Bible, her name is written "Amanda Louisa." Also, she was told that "Barnes" was for a family friend that wished her to be named for him.
     In May 1866, Louisa, her brothers
John
and
Martin
, and sister and brother-in-law,
Virginia
and
Jim
Taylor
, moved to Brazoria County, having been encouraged by their uncle,
Dr.
Anthony T.
Morris
. Why some of the Hanks children chose to move and others stayed in Pittsboro is not known. Apparently Lou didn't get along with her stepmother, so that may have been a deciding factor for her. In a letter,
Catherine
Walker
Hanks
wrote to her stepson
John
about his plans to visit that summer: "...you said nothing about Louisa coming has she given it up because
Kate
is not here? fearing it will not be pleasant, you know she
never
mentions my name, or alludes to me, in any of her letters to
Pa
, you would not think there was, or ever had been such a person in existence."      
Joe
Underwood
would later say that at the moment he saw Louisa step off the steamboat at Columbia, he vowed she would be his wife. They lived with the elder Underwoods,
Ammon
and
Rachel
, who in 1875, presented
Joe
with a deed to the house as a Christmas present.
3
She was called "Lou" and usually signed her name "L.A.B. Underwood." Joe called her "Loulie" in a letter

he wrote to her several weeks before they married, but the writer doesn't know if he continued to use the pet name over the years.
     Louisa died of a massive stroke at her home in Columbia in 1912. In her journal

, Lou's daughter
Kate
described the circumstances of her mother's death.
4
Additional Data
Louiza B. Hanks appeared on the 1 June 1850 Federal Census of Lower Regiment, Chatham County, North Carolina, in the household of her father John A. Hanks.5



Louisa Hanks appeared on the 1 June 1860 Federal Census of Pittsboro, Chatham County, North Carolina, in the household of her father John A. Hanks.6



Louise Underwood appeared on the 1 June 1870 Federal Census of Columbia, Brazoria County, Texas, in the household of Ammon and Rachel Underwood, her husband's parents, with her husband, Joseph Underwood, and their daughter, Kate.7



L.A.B. and J.P. Underwood appeared on the 1 June 1880 Federal Census of Columbia, Brazoria County, Texas, enumerated 3 June 1880. Their children Katie, Laura and John H. were listed as living with them.8



Louisa B. Underwood made a will dated 26 February 1891 at Brazoria County, Texas. She made her husband J.P. Underwood sole heir and executor, but provided that should he predecease her, their children would inherit equally.9



Louise and J.P. Underwood appeared on the 1 June 1900 Federal Census of Columbia, Brazoria County, Texas, enumerated 4 June 1900. Their children Katie, John H., Laura and Louise were listed as living with them, as was Louisa's brother John W. Hanks.10



Lou A. and Joe P. Underwood appeared on the 15 April 1910 Federal Census of Columbia, Brazoria County, Texas, enumerated 15 April 1910. Their children Kate, Laura and John were listed as living with them, as were their daughter Louise with her husband George Munson and their children George and Cathern.11