Catherine Munson
b. 31 December 1908, d. 22 September 1995
Catherine Munson|b. 31 Dec 1908\nd. 22 Sep 1995|p27.htm|George Poindexter Munson Sr.|b. 12 Aug 1873\nd. 7 Jan 1944|p18.htm|Louise Underwood|b. 8 Jul 1880\nd. 5 Sep 1946|p19.htm|George P. Munson|b. 4 Jun 1832\nd. 19 Apr 1878|p20.htm|Matilda A. Davis|b. 22 Feb 1850\nd. 25 Feb 1882|p21.htm|Joseph P. Underwood|b. 26 Feb 1845\nd. 1 Feb 1925|p66.htm|Louisa A. B. Hanks|b. 3 Jun 1847\nd. 2 Feb 1912|p67.htm|
Daughter of
George Poindexter
Munson
Sr.
Daughter of
Louise
Underwood
.
Aunt of
Laura Jane
Munson
.
Family Background: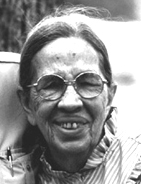 Catherine Munson
Catherine
Munson
was born on 31 December 1908 in the
Underwood home, Columbia, Brazoria County, Texas
,
1,2
(now
East Columbia
). She was the daughter of
George Poindexter
Munson
Sr.
and
Louise
Underwood
. She married
William Ligon
Foster
on 30 December 1929 in
Louisiana
.
3
She died on 22 September 1995 in
Angleton, Brazoria County, Texas
, at age 86.
4,2,5
She was buried in
Munson Cemetery, Bailey's Prairie, Brazoria County, Texas
.
2

     Catherine was named for her mother's sister,
Kate
Underwood
. She was called "Bigo" by the family and many close friends, a nickname given her by her brother
Joe
who, when learning to talk, called her "bigo chichi" (big old sister). She lived most of her life in
Brazoria County
, and appears there in the household of her grandparents
Joe
and
Lou
Underwood
as a one year old in the 1910 census

, and as an eleven year old in the household of her parents in the 1920 census

. She has not been found in the 1930 census.
6,7
     Catherine graduated from
Angleton High School
. Afterward she attended the College of Industrial Arts in Denton, now
Texas Woman's University
, and graduated with a degree in journalism. She worked in journalism for the
Fort Worth Record Telegram
and the
Houston Press.
Ligon
was working for General Motors, and because of frequent transfers, they lived in several places in Texas and Oklahoma. They moved to Brazoria County in 1944 and lived with Catherine's parents at
Bailey's Prairie
before moving to Angleton where
Ligon
had obtained the Pontiac dealership.
     Catherine worked as a librarian for the Brazoria County Library from 1954 to 1980, the later years as head librarian. Her weekly newspaper column, "Catherine Comments,"

appeared in the
Angleton Times
for many years. She was a member of the Cradle of Texas Chapter, Daughters of the Republic of Texas, United Daughters of the Confederacy, and of the Asa Underwood Chapter, Daughters of the American Revolution that was named for her ancestor and organized at West Columbia on 24 November 1941 by her aunt
Laura
Underwood
.
     No one did more to preserve Brazoria County history. She was a passionate supporter of the Brazoria County Historical Museum who was best known for her Brazoria County ghost stories and legends. She was a popular speaker at schools and clubs, and thousands of Brazoria County school children over the years knew her simply as the "Ghost Lady." After much urging, she reluctantly published her collection of stories in
Ghosts Along the Brazos
.
Ghosts
was illustrated by her niece
Ruth
Munson
. After she died,
Ligon
gave the copyright to the Brazoria County Historical Museum. The writer always thinks of her as a kindred spirit. In my copy of
Ghosts Along the Brazos
, she wrote, "to Laura Jane, who has the same feeling that I have for old places, old times, and even old graveyards! Love Aunt Bigo." In cultivating those feelings, she played a significant role.