Matilda Agnes Davis
b. 22 February 1850, d. 25 February 1882
Matilda Agnes Davis|b. 22 Feb 1850\nd. 25 Feb 1882|p21.htm|Isaac S. Davis|b. 8 May 1815\nd. Jul 1861|p110.htm|Matilda Sophia V. Blakely|b. 1818\nd. 24 Aug 1862|p111.htm|George Davis|b. c 1768\nd. 1 Apr 1850|p981.htm|Rosetta (—?—) (Davis)||p1158.htm|George Blakely||p112.htm||||
Mother of
George Poindexter
Munson
Sr.
Great-grandmother of
Laura Jane
Munson
.
Family Background:
Appears on charts: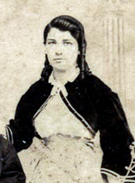 Agnes Davis
Matilda Agnes
Davis
was born on 22 February 1850 on
Government Street, Mobile, Mobile County, Alabama
.
1

She was the daughter of
Isaac S.
Davis
and
Matilda Sophia V.
Blakely
. She was baptized on 12 March 1850 in
Mobile
.
1

She married first
George Poindexter
Munson
, son of
Henry William
Munson
and
Ann Binum
Pearce
, on 13 February 1866 at
Oakland Plantation, Gulf Prairie, Brazoria County, Texas
, in a ceremony performed by Reverend Peter Berthet. [2]
2
George died in 1878, and she married second
J.B.
Hawkins
in 1880.
3
She died on 25 February 1882 in
Columbia, Brazoria County, Texas
, at age 32.
4,5,6
She was buried in
Old Columbia Cemetery, West Columbia
.
5

     Regarding Agnes' birth year, according to her granddaughter,
Catherine
Munson
Foster
, she was born in 1842 rather than 1850. While the earlier date seems more plausible, records support the latter date. According to Mobile Catholic records, there were two Matilda Agnes babies, one born 6 August 1843, and the other, 22 February 1850. Although both births are also recorded in Agnes' bible, the last two digits of the year are missing from the younger child's record. Also recorded in Agnes' bible is a June 1849 death date for the older child. Although notoriously unreliable, ages given in census records support that Agnes was much younger than previously believed.
     The second Matilda Agnes was the youngest daughter of
Isaac
and
Matilda Blakely
Davis
, and almost certainly the only child who left descendants. She was born on Government, the most famous street in Mobile. There is some question about when the family moved to Texas, but it was not before 1858. The first record of the family in Texas is the 1860 federal census of
Bexar County
, though
Isaac
Davis
' obituary states that they moved from Mobile to
Galveston
in 1858 with the intention of making it their home. By early 1861, they had either returned to or moved to Galveston.
     On March 1, 1861, Texas was accepted as a Confederate State, and immediately, or almost so, Agnes' father
Isaac
, and brother
Leo
left Galveston for the Valley where they enlisted. It was perhaps at this time that
Matilda
and Agnes took room and board at the
Ursuline convent
in Galveston
     Over the next two years, Agnes lost every member of her immediate family, her father in July 1861, her mother in August 1862, and her brother
Leo
in June 1863. She probably remained at the convent where, according to family tradition, she received a fine education. Though no record exists that proves Agnes attended Ursuline Academy, information from the Ursuline archivist is that there exists very few records for that time period in Galveston.
     Just how or when Agnes ended up in
Brazoria County
is not known, but it may have had some connection to the arrival in Brazoria of Reverend Peter Berthet.
     The first record found of Father Berthet is a letter dated 9 March 1861 from Liberty, Texas, in which he mentioned, among other things, that the Ursulines are well and that their pupils increase every day. He was in Liberty at least until the end of May 1864. In August of that year, he was in France, but wrote a letter to Bishop Odin in New Orleans in which he expressed a desire to return to Texas even though his family and friends wanted him to stay. He wrote the next month that he loves the old France but still prefers Texas. He returned in January 1865, and was assigned the mission in Brazoria. In a letter from there on 12 June 1865, to Archbishop John Mary Odin, C.M., in New Orleans, Father Berthet wrote that he was preparing to set up a Catholic school at Brazoria. He had recently been given the mission that included "all the country from the railroad at Galveston to Colorado and from the Gulf to the railroad from Columbus to Houston."
7
     Some of the students from Ursuline in Galveston may have been transferred to Brazoria when the new school opened, or some of the older students may have gone there as teachers or aides. The latter seems plausible because Agnes was hired as a tutor for
Mordello
and
Sarah
Munson
's children at
Ridgely Plantation
, even though she could not have been more than 15 years old. It was while she was working at Ridgley that she met her future husband. They were married by Father Berthet in 1866, a little over a week before Agnes' sixteenth birthday.
George
was 33. Following their marriage, Agnes taught school first at
Liverpool
, and later at
Oyster Creek
. Whether Agnes remained in the Catholic Church is not known. Following her death, the orphaned children lived with
Sarah
and
Mordello
Munson
, their aunt and uncle, and were surely raised by them in the Methodist Church.
     Agnes obviously wasn't the type of person who goes along to get along as evidenced by a letter from
Sarah K.
Munson
to
Mordello
.
George
, Agnes,
Annie
(
Gerard
's widow) and her children were all living at Oakland at the time. Dated October 19, 1866, it reads: "I have not heard from
George
since he left, though I think they are getting along badly again...
Annie
told me that if she could get some of her mother's land, which she was expecting to do, that she was going to leave there if
George
and Agnes was going to remain, that it was impossible to live with them. I guess this is a mutual sentiment."
8
     Writer's note: Cousin
Mary
Giesecke
told Mamma (
Ruth Anna
Munson
) that Agnes was a small, pretty woman with jet-black hair, and that she was extremely intelligent. Since Agnes died before Cousin
Mary
was born, this was probably told her by her mother, Aunt
Doll
Kennedy
. Family tradition tells us that Agnes contributed articles to national magazines in the East. In about 1943, Aunt
Maud
Caldwell
brought Agnes's diary with her on a visit to my grandparents' home at Bailey's Prairie. We were living there at the time, and Mamma remembered that I was a baby. While I napped, she and Grandmamma (
Louise (Underwood)
Munson
) read the diary together. Agnes wrote in a beautiful hand that when they lived near Liverpool, she would put her son
George
behind her on her horse and ride into town to get the mail. She also wrote that she loved to jump up behind her husband
George
on his horse. A favorite pastime was to spread a quilt under one of the large liveoak trees where she would sit and read. (This was also a favorite pastime of her Munson granddaughters). Her second husband
J.B.
Hawkins
must have been a very strange man at whose hands, according to Agnes, her son
George
suffered much abuse.
Mr. Hawkins
made mysterious trips to either North or South Carolina without telling Agnes why he was going. Once he returned from a trip and caught her trying to get into a locked trunk that he had forbidden her to open. A huge row ensued. Someone told Mamma - she believed Cousin
Mary
- that he was a heavy drinker. If true, it goes far to explain his behavior. Mamma was quite sure that toward the end of the diary, Agnes wrote that she was pregnant. It is fact that she had no Hawkins children, at least none who lived, so if Mamma was correct, the pregnancy or birth may have contributed to her untimely death. Aunt
Maud
thought some of the things Agnes wrote about in the diary were shameful. Especially offensive to her was that Agnes rode astride rather than side-saddle. Later that day, Mamma was watching from the window when Aunt
Maud
threw the diary into a fire.
     Even with so few glimpses into her life, it is easy to picture Agnes as independent, fun loving and feisty, a person way ahead of her time.
Additional Data
Matilda Davis appeared on the 1 June 1850 Federal Census of Mobile, Mobile County, Alabama, in the household of her parents, I.S. and Matilda Davis.9



Agnes Davis appeared on the 1 June 1860 Federal Census of San Antonio, Bexar County, Texas, in the household of her parents, I.S. and Matilda Davis.10



Agnes Hawkins was appointed exeutrix of George P. Munson's estate in 1880 in Brazoria County, Texas.3

Agnes and J.B. Hawkins appeared on the 1 June 1880 Federal Census of Brazoria County, Texas, enumerated 15 June 1880. Her children George P. Munson, Sarah K. Munson and Mordella Munson were listed as living with them.11



The Galveston newspaper reported that "Mrs. J.B. Hawkins died in Columbia last Saturday night, after a very short illness."