Euphemia Matthias Morris
b. 10 May 1822, d. 29 March 1850
Euphemia Matthias Morris|b. 10 May 1822\nd. 29 Mar 1850|p88.htm|Enos Morris|b. c 10 Apr 1773\nd. 18 Feb 1832|p1929.htm|Elizabeth (—?—) (Hough-Morris)|b. c 1785\nd. 25 Aug 1824|p1930.htm|Benjamin Morris|b. 27 Sep 1748\nd. 2 Apr 1833|p1989.htm|Mary Mason|d. 7 Jan 1813|p1990.htm|||||||
Grandmother of
Louise
Underwood
.
2nd great-grandmother of
Laura Jane
Munson
.
Family Background:
Appears on charts: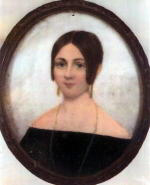 Euphemia Morris
Euphemia Matthias
Morris
was born on 10 May 1822 in
Newtown, Bucks County, Pennsylvania
.
2
She was the daughter of
Enos
Morris
and
Elizabeth
(—?—)
(Hough-Morris)
.
1
She married
John Armstrong
Hanks
, son of
John
Hanks
and
Jane Douglas
Armstrong
, on 16 May 1839 in
Philadelphia, Philadelphia County, Pennsylvania
.
3,4,5
She died of puerperal (childbed) fever on 29 March 1850 in
Pittsboro, Chatham County, North Carolina
, at age 27.
2
She was buried in
Pittsboro United Methodist Church Cemetery
.
2
     Euphemia, the youngest of Enos' children, was only two years old when her mother died. Her father's second wife
Ann
had a reputation for marrying older men for their money, so it seems likely that when Enos died in 1832, his widow had little interest in caring for her minor stepchildren. It is believed, though not proven, that Euphemia was thereafter sent to boarding school and never returned to Newtown to live.
     Euphemia kept a "memory book" which is much like an autograph book except that the entries are almost all long sentimental poems from friends. The first, however, was written by her brother
Anthony
, suggesting that he gave her the book, perhaps as a going away present when she left for boarding school. The entry is undated, but a few entries that follow, at least those that bear a date, were written in February and March 1835 at Moscow Academy, an institution that was founded in 1826 in Sadsbury township, Chester County, Pennsylvania, by Reverend Francis A. Latta, an ordained Presbyterian clergyman. It was a classical and literary institution which flourished for some years. An entry of October 3, 1837 in her Memory Book concludes with "Farewell." Not all entries are dated nor location noted, but all that are subsequent to this one, and before her marriege, are dated between 3 May 1838 and 3 January 1839 at Philadelphia.
6
These entries suggest that she was either attending school in Philadelphia, or had graduated from or left Moscow Academy and had moved to Philadelphia to live with relatives, and there met her future husband who would soon graduate from the University of Pennsylvania School of Medicine. The Morris family had close ties with the University, and one of Euphemia's brothers,
Horatio
, had graduated medical school in 1829.
     In exactly ten years to the day that her first child was born, Euphemia gave birth to her seventh child, and fifteen days following, she died of "fever." A necklace was woven from her hair and is on display at the Underwood home in East Columbia, Texas. An undated entry in Euphemia's memory book is a poem written to her memory by her husband.

Her gravestone bears the following inscription:
In Memory of
Euphemia M.
Wife of
John A. Hanks,
And Daughter of the Late
Enos Morris, Esq.,
Of Newtown, PA
Who Died, March 29 AD, 1850
Aged 27 Years, 10 Months
And 19 Days2
Additional Data
Euphemia Hanks was named as an heir to the estate of Horatio N. Morris in a distribution order made 18 October 1847 in Elmore County (then Coosa), Alabama.7

Euphemia Matthias Morris appeared on the 1850 Mortality Schedule in March 1850 in Lower Regiment, Chatham County, North Carolina.8

When Enos Morris died, his widow Ann retained a widow's dower interest in his land. When Ann died in 1852, the interest reverted to Enos' estate. The value of the dower was distributed amongst Enos' surviving children, and his grandchildren or the estate of those who were deceased, each receiving a share, or fraction of a share, that in total, plus expenses, equaled the value of the dower:
Recd. September 29th 1853 of Saml Hart Surviving adm. of the estate of Enos Morris decd. Five hundred and sixty three 19½/100 Dollars in full of the share of Euphemia Hanks decd of principal sum Yielding Widows dower as per auditors Report
$563.19½               for

John A.

Hanks

Adm of Euphemia M Hanks
                              

Enos Morris

Lloyd

Atty in Fact.