John Wesley Hanks
b. 26 March 1844, d. 15 September 1916
John Wesley Hanks|b. 26 Mar 1844\nd. 15 Sep 1916|p75.htm|John Armstrong Hanks|b. 19 Apr 1812\nd. 27 Apr 1889|p87.htm|Euphemia Matthias Morris|b. 10 May 1822\nd. 29 Mar 1850|p88.htm|John Hanks|b. 1770\nd. 29 Jun 1839|p99.htm|Jane D. Armstrong|b. bt 1768 - 1769\nd. 22 Nov 1851|p100.htm|Enos Morris|b. c 10 Apr 1773\nd. 18 Feb 1832|p1929.htm|Elizabeth (—?—) (Hough-Morris)|b. c 1785\nd. 25 Aug 1824|p1930.htm|
Uncle of
Louise
Underwood
.
Great-granduncle of
Laura Jane
Munson
.
Family Background: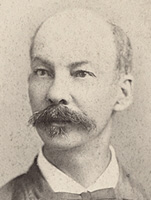 John Hanks
John Wesley
Hanks
was born on 26 March 1844 in
Pittsboro, Chatham County, North Carolina
.
1
He was the son of
John Armstrong
Hanks
and
Euphemia Matthias
Morris
. He died on 15 September 1916 in
Angleton, Brazoria County, Texas
, at age 72.
1
He was buried in
Old Columbia Cemetery, West Columbia, Brazoria County, Texas
.
1

     John, the third child of
Dr. John
and
Euphemia Hanks
, grew up in Pittsboro. He joined the Confederate Army in 1862 at age eighteen, was wounded twice and captured three times. The last time he was taken prisoner, he was sent to Johnson's Island Prisoner of War Depot.

While there, he was befriended by a young lady who saw him on a forced march through the streets of Baltimore with other prisoners. She sent him necessities and wrote letters

that she signed "Cousin Mary." Click
here
for a timeline of John's service.
     After the War, in May 1866, he moved with several of his siblings to Brazoria County, Texas. He lived in Texas the remainder of his life, though not always in Brazoria County. In an 11 May 1868 letter

from his father,
Dr. Hanks
wrote, "I am glad you have moved up country as I never could thole that section you left and now it would be a perfect Pandemonium to reside in a county where the Gumbo [?] element so largely predominates as it does in Brazoria." In the same letter he wrote, "You want me to go out to Texas." John has finally been located in the 1870 census in
Falls County
where he, his brother
Martin
, and J.F. Watts, another young man from North Carolina, were farming.
2
Falls County is about 200 miles north-northwest of Brazoria County. A search of the 1880 index for his name, and all variations the writer can conceive, has been fruitless. Wherever he may have been, he was back in Brazoria County by January 1887 when he began a term as Columbia Postmaster.
     In Brazoria County John always lived with relatives, either his older sister
Virginia
and her husband
Jim
Taylor
at their home near West Columbia, or younger sister
Lou
and her husband
Joe
Underwood
at their home in
Columbia
. Sometime after 1910,
Jim
and
Virginia
Taylor
moved to Angleton to live with their daughter
Effie
and her husband
Henry
Perry
. John probably moved with them, and he died at the Perry home several years later.
     By all first-person accounts, "Uncle John" was a real character. He was a confirmed bachelor who, like his father, was an unreconstructed Rebel to the very end. Also like his father, he appreciated his whiskey. He would say, according to
Joe
Munson
, "If the river was whisky and I was a duck, I'd dive to the bottom and never come up!"
Catherine
Munson
Foster
said he was a drummer (salesman), but what kind she didn't know. The following was written by
Virginia
Hanks
Taylor
, transcript courtesy of
Virginia
Munson
McGee
. The bracketed dates are from John Wesley Hanks' service records, copies of which were obtained from the National Archives in Washington D.C.
IN MEMORIAM

     I have been urgently requested to furnish the Angleton Times with a sketch of the life of my brother, J.W. Hanks, who so recently passed into the Great Beyond. For the sake of the many countrymen, who loved him, I will with a very heavy heart endeavor to relate some incidents of his life as I remember them.

     He was born on March 26, 1844, in Pittsboro, N. C. where he received a liberal academic education until the breaking out of the war between the states, when North Carolina's patriotic teachers and many of her boy students enlisted for the service in the Southern cause. An older brother enlisted at once, and he wished much to go also, but on account of his extreme youth, our father withheld his consent until some months later when he yielded to his request that he might join the ranks of Co. G, 3rd North Carolina Regiment on duty at that time in Virginia [Feb. 19, 1862]. He was wounded at the battle of Malvern Hill [July 1, 1862] and sent to the hospital in Richmond, where our father, who was a physician, found him and was allowed to carry him home for treatment. As soon as his wounds were healed, he returned to his post of duty. He was engaged in many battles, sometimes acting as courier to General Lee, but sustained no further injury until the battle of Sharpsburg [Sep. 17, 1862], where a comrade saw him fall. He was reported among the list of dead, and for many weeks his family mourned him as lost, but one afternoon the old stage horn blew a cheerful blast on the eastern limit of the town, and the driver called loudly, "Where is Dr. Hanks? Little John is not dead, but is in Richmond, an exchanged prisoner, wounded in his side and both legs." Our father lost no time in reaching him and the wounds, though serious, healed sufficiently for him to join his command at Fredericksburg, and to take part in the battles fought there, and at Chancelorsville. At the latter place, a call was made for volunteers to burn a two story house filled with Federal sharpshooters menacing the Confederate lines. Brother John was one of the four, who dashed through a rain of bullets to accomplish this. The very audacity of the charge helped them to reach a barn in the rear, from which they secured bundles of hay. Bearing these in their arms and reaching the house, they broke the panes of glass with their fists, thrust in the lighted hay against the draperies and succeeded in setting fire to the building. The returned in safety to their line. My brother accompanied General Lee on his march into Pennsylvania. Owing to the old wounds, which as yet had not thoroughly healed, and the hardships undergone, he shortly afterwards returned to his home in Pittsboro for a rest[.] Being unfitted then for active duty, Governor Vance of North Carolina, issued him a lieutenant's commission [Sep. 25, 1863] to drill the Junior Reserves in the western part of the state. Among these reserves were many Cherokee Indians. He learned to speak their language and soon became a great favorite among them: he often alluded in after years to their many sterling qualities. This company, while learning the Manual of Arms, for want of better equipment, drilled with corn stalks, there being only one old rusty musket in the whole company. Col. Kirk, a renegade bushwhacker, learning the situation, rushed his force upon them one day and made prisoners of all [June 28, 1864, Camp Vance, NC]. The officers were bound with bedcords and sent to headquarters for disposal. Col Kirk had demanded dinner from a Southern sympathizer, who chanced to be an old friend of our father. The captured officers were placed in a front room, while Kirk ate, and our soldier boy managed to get a book from a table nearby, and hastily wrote on a fly leaf his name and the address of our father, hoping the friend who had not recognized him, would see it and send it to his father, which he did. In this way his family learned again of his fate. He was sent to a prison for officers on Johnson's Island [July 15, 1864]. The less we speak of this place, the better. Here he languished for many months even after the close of the war [released on oath June 14, 1865]. But for the kindness of Miss Sevres, a Southern sympathizer, he might have died of sheer privation. As the prisoners marching through the streets of Baltimore passed her, she pittied a mere lad in the line, who, though limping through the dusty streets in evident pain and weariness, still maintained a soldierly bearing. She became interested enough to select him as one whom she would help personally. She not only obtained necessary information in regard to him, but wrote to his father that she would supply him with warm clothing and food as long as she was allowed. The escape of some prisoners from Johnson's Island across the frozen lake into Canada, (a thing considered impossible) caused these privileges to be denied them. He then endured the pangs of hunger to such an extent that never afterwards could he bear to hear anyone use the common expression "I am hungry." He would always say "God grant you may never know the meaning of that sentence, for you never could realize it without experiencing the pangs."

     After recovering his health in a measure, he came to Texas, where he has made his home. All the hardships he passed through, and the sufferings he endured did not destroy the natural brightness of his disposition. He was always genial, gentle and kind, enlivening the home with his pleasantries. His joking never caused pain to the most sensitive, and he was too sympathetic to wound anyone. In our memory of the last years of his life, his talks with us and his pastor regarding his readiness to enter ------------------the beyond------------------- [last line missing].
Additional Data
John W. Hanks appeared on the 1 June 1850 Federal Census of Lower Regiment, Chatham County, North Carolina, in the household of his father John A. Hanks.3



John Hanks appeared on the 1 June 1860 Federal Census of Pittsboro, Chatham County, North Carolina, in the household of his father John A. Hanks.4



John W. Hanks enlisted in Chatham County for the duration of the war as a private in Company G, Third Regiment North Carolina Infantry (State Troops) on 19 February 1862.5



John W. Hanks took the "iron-clad" oath of allegiance on 21 August 1867 in Brazoria County, Texas, so that he could vote.

J.W. appeared on the 1 June 1870 Federal Census of Marlin, Falls County, Texas, enumerated 28 June 1870. His brother W.M. was listed as living with him.6



Between 10 January 1887 and 27 May 1889, John W. Hanks was the Columbia Postmaster.7



John W. Hanks appeared on the 1 June 1900 Federal Census of Columbia, Brazoria County, Texas, in the household of J.P. and Louise Underwood, his brother-in-law and sister.8



John W. Hanks appeared on the 15 April 1910 Federal Census of Brazoria County, Texas, in the household of J.P. and Virginia M. Taylor, his brother-in-law and sister.9