Catherine Jane Patterson
b. circa 1795, d. 1 July 1875
Catherine Jane Patterson|b. c 1795\nd. 1 Jul 1875|p77.htm|John Patterson||p1579.htm||||||||||||||||
Great-grandmother of
Louise
Underwood
.
3rd great-grandmother of
Laura Jane
Munson
.
Family Background:
Appears on charts: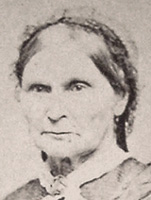 Catherine Patterson
Catherine Jane
Patterson
was born circa 1795 in
Nova Scotia
. She was the daughter of
John
Patterson
. She married first
William Clark
Carson
, son of
Charles
Carson
and
Rachel
Clark
, on 17 December 1815 in
Posey County, Indiana
.
1
She married second
Gail
Borden
on 24 April 1842 in
Brazoria County, Texas
.
2
She died on 1 July 1875 in
Columbia, Brazoria County, Texas
,
3
(now
East Columbia
).
3
Application for probate of her will was made on 14 July 1875 in
Brazoria County, Texas
.
3
     Catherine moved with her family from Nova Scotia to Indiana Territory between 1807 and 1812. In 1815, she married
William C.
Carson
in a ceremony performed by Samuel Jones. Although all of
William
's family lived in Posey County, he and Catherine, with their young son
John
, moved to
Catahoula Parish, Louisiana
about 1818 with some, or perhaps all, of Catherine's family. They remained in Catahoula Parish for about six years and had at least two, but probably three more children, before moving to
Coahuila and Texas
where
William
obtained a grant in
Stephen F.
Austin
's first colony.
     Family tradition tells us that Catherine was the driving force behind the Carson's move to Texas. However, it has been proven that the story handed down through the generations is not totally accurate, for
William
did not die soon after their arrival in Austin's Colony. As with most family lore, though, there is surely some basis in fact. Catherine may very well have made the decision to migrate based on
William
's failing health. Although it is doubtful he was an invalid at that point, he did die young. Furthermore, she would later prove to be a capable woman, so perhaps the story of her driving the family to Texas in a covered wagon is accurate.
     Nothing is known of Catherine's life in Texas before she was widowed.
William
died after 8 December 1830, and before 1836, probably nearer the earlier date. Afterward, she and the children moved into town (Columbia), where she operated a boarding house catering mainly to children attending the Thomas J. Pilgrim school.
Catherine
Munson
Foster
wrote in a letter to
Peachy
Borden
that the widow Catherine Carson, with her children, moved to Bell's Landing rather than (West) Columbia following the death of
William
. Several sources suggest that her move was to (West) Columbia, but it must be kept in mind that the towns are often confused. However, during the period in question - between about 1831-38 - Marion was called "Bell's Landing" and the prairie town, "Columbia." On a list of early private schools in the Anglo colonies, Pilgrim is reported to have had a school in Columbia between 1831 and 1836.
Kate
Underwood
wrote in 1902 that before Columbia was founded, Josiah H. Bell built a school house "on the prairie," at which Pilgrim was the first teacher. It was common practice at that time for children to board near schools, the only way most families could secure an education for their children outside the home.
Kate
also wrote that Bell moved from the Landing in 1826 to his plantation on the prairie. Marie Beth Jones, in her history of Peach Point Plantation, wrote that in 1836, Pilgrim's school was within a mile of the Bell place at Bell's Landing. However, the Bells no longer lived there in 1836, but on their plantation near (West) Columbia.
     Texas declared independence March 2nd 1836. Four days later the Alamo fell, followed by the Goliad Massacre on the 27th. News in early April that Sam Houston's army was retreating toward the San Jacinto caused a general panic among the Anglo colonists. The unprotected families between the Brazos and Colorado Rivers began fleeing their homes. Most headed for Galveston or the Louisiana border in an exodus that became known as the "Runaway Scrape."
     Catherine Carson was reluctant to leave because of concern for her two sons who were with the Texas Army. Most of the residents of Columbia had gone by steamboat down the Brazos and on to Galveston by the time Catherine decided it was necessary to evacuate. She and sixteen year old
Rachel
went first to Damon's Mound. With the Damon family, they headed for Richmond where there was a company of Texian soldiers protecting families crossing the Brazos at Fort Bend. However, Mexican soldiers effected a crossing before them and they were fired upon. Catherine helped load the wagons as bullets flew overhead, and their group managed to escape unharmed. On April 21, they were about twelve miles from the Trinity River in what is now Montgomery County and heard the cannons firing at San Jacinto. It was a rainy day and they thought it was thunder.
     When news of the victory at San Jacinto reached the refugees, they began their return home. On July 23, 1836, President David G. Burnet named Columbia (now West Columbia) as the location of an October 3rd meeting of Congress, thus earning that town the distinction of "First Capitol of the Republic of Texas." He chose Columbia because it had the most adequate housing accommodations and there was a newspaper located there. Catherine Carson pledged a room and stove, but the pledge was never redeemed. Incidentally, this pledge is further proof that Catherine moved to (West) Columbia rather than Bell's Landing after
William
's death. There is nothing to indicate that accommodations for the Congress were sought at Bell's Landing.
     In 1838, Catherine entered into a business partnership with
Ammon
Underwood
, a young man who came to Texas from Massachusetts in 1834. They became friends, and together they decided to open a boarding house to serve the thriving community of Bell's Landing (Marion).
Ammon
bought a log house on the Brazos River, enlarged it, and made improvements.

Catherine was in charge of its operation until her daughter,
Rachel Jane
, married
Ammon
the following year. It then became their private residence, though they did continue to accept boarders on a limited basis.
     In 1842, Catherine married
Gail
Borden
Sr.
. He was a widower whose son would later invent the canned milk process. Two other sons fought at San Jacinto, and all were prominent in the affairs of early Texas. Following their marriage,
Gail
moved into the
Underwood home
. He died in 1863, probably in Columbia. Catherine died in Columbia in 1875.
Rachel
, her only surviving child, was heir to her estate after bequests to the three children of her deceased son
John
. It is not known where she is buried.
Additional Data
838C     
Joseph A.
Patterson
for himself and his sisters Jane Carson,
Hannah A.
McDaniel
and
Harriett H.
Patterson
,
Mary
Markham
for herself and her husband,
Hosea
Markham
, acknowledges that for $80 paid by John Brown, sells 50 acres of land lying in Catahoula Prairie and being part of William Mocks tract of land... /s/ J.A. Patterson, Cathey Jane Carson by J.A. Patterson, Hannah A. McDaniel, Harriet H. Patterson - Witness: John Doyal. (Record is undated; nearest dated records, both before and after, are 1833).
4
On 20 July 1836, Catherine Jane Patterson sold to John Duncan for $2,222 "one quarter league of land it being off the upper side of league No. 2[1], which was granted by the Mexican Government to
William C.
Carson
by title bearing date the 15th day of May 1827 the said league being bounded on the southwest by a league of land granted by said Government to Isaac Foster. The said league of land of which a part is hereby sold being situated on Linville Bayou in Austin's old colony, and the said quarter of a league hereby sold to the said Duncan contains eleven hundred and eleven acres, and when the land shall be divided the foresaid quantity shall be considered the property of the said Duncan from the part which ought to belong to the said Catherine J. Carson by law as being the widow of the late
William C. Carson
..." The deed was written in Columbia, and there being no qualified Notary available, it was witnessed by six persons, one of whom was
Gail
Borden.5
On 1 February 1838, Catherine J. Carson "...made oath that she has been a resident citizen ever since the year 1824 and that she has received one league of land and that she conceives her self justly in titled yet to a labor of land more under the constitution and laws of this Republic and there fore she now applyes for her aditional quanity of land whic is one labor." (The league of land referred to is that which was granted to
William C. Carson
by the Mexican Government). Under the Headright system, Catharine, a widow, was entitled to an additional labor. She signed her name, "Catharin J. Carson."
6
On 20 May 1847,
Gail Borden
, Catherine J. Borden,
John P.
Carson
and
William J.
Carson
, all of Brazoria County, Texas, sold to
Ammon Underwood
for $2,214, "one third of a certain undivided half league of land say siven hundred and thirty eight acres more or less, out of league number twenty one granted to
William C Carson
as a colonist of Texas, situated between the river Bernard and Bay Prairie."
7
Catharine J. Borden appeared on the 1 June 1850 Federal Census of
Brazoria County, Texas
, in the household of
Ammon
and
Rachel J.
Underwood
, her son-in-law and daughter, with her husband
Gail
Borden
.
8

In regard to a Republic of Texas claim by Mrs. C.J. Borden for pay due
William J.
Carson
for his service in the Vasquez Campaign in 1842, on 18 April 1853 in
Travis County, Texas
, William Simpson and
Gail
Borden
signed a sworn affidavit that Mrs. C.J. Borden "is the Mother of
William J.
Carson
now decd _ and we do further solemnly Swear that the said Mrs. C.J. Borden is the only living heir of the said
William J.
Carson
decd..."
9

The claim in the amount of $31.50 was paid, and a receipt was signed by "C.J. Borden."
10

C.J. Borden appeared on the 1 June 1860 Federal Census of
Columbia, Brazoria County, Texas
, in the household of
A.
and
Rachel
Underwood
, her son-in-law and daughter, with her husband
Gale
Borden
.
11

Catherine Borden appeared on the 1 June 1870 Federal Census of
Columbia, Brazoria County, Texas
, in the household of
Ammon
and
Rachel
Underwood
, her son and daughter-in-law.
12

Catherine J. Borden made a will on 9 January 1872 in
Columbia, Brazoria County, Texas
. Named in the will were
Sarah Jane
Copes
, granddaughter, $500;
James
Carson
and
John
Carson
, grandsons, $100 each;
Rachel Jane
Underwood
, daughter, the remainder of the estate. Her son-in-law,
Ammon
Underwood
was named executor, and in the event of his death, she appointed her daughter
Rachel Jane
Underwood
executor, and her grandson,
Joseph Patterson
Underwood
, assistant executor.
13

On 2 August 1872, Catharine J. Borden appointed
Ammon
Underwood
,
. . .my agent and attorney for me and in my absence to make any and all business transactions for me, and in my place and Stead, that he, in his Judgment may deem important and necessary, and to Sign my waver as agent or attorney in all Cases hereby aproving, recognizing, acknowledging and binding myself intirely as fully and as legally as though done by myself in person, hereby binding myself my heirs Administrators and assigns firmly by these presents, to whatever my said agent and attorney may do in all matters, excepting only the Signing my waver as Security in any and every Case.14